Posted on
Wed, Jan 20, 2010 : 5:57 a.m.
Urban park concepts for Ann Arbor's Library Lot get second look from committee
By Ryan J. Stanton
Ryan J. Stanton | AnnArbor.com
Two proposals - each calling for a large urban park space to be developed in downtown Ann Arbor - were given a second look Tuesday during interviews with the city's Library Lot RFP review committee.
Proposals by Dahlmann Apartments Ltd., which is calling for a new Ann Arbor Town Square, and a citizen-led group called the Ann Arbor Committee for the Commons, which wants to create a Community Commons, were scrutinized for 90 minutes each during public interviews at the downtown library.
City Council Member Stephen Rapundalo, chairman of the review committee, said the two proposals - among six in all - recently were eliminated from consideration because they did not provide enough information to demonstrate either project would result in a financial return for the city.
Upon closer examination, both sides made a case Tuesday that there could be a significant economic impact if a green space occupying the 1.2-acre site owned by the city on South Fifth Avenue were cultivated.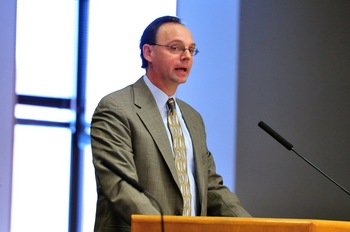 Ryan J. Stanton | AnnArbor.com
"We are extremely confident that this proposal will do right by the city of Ann Arbor," said Ben Dahlmann, vice president of Dahlmann Apartments Ltd., as he laid out a vision for the Town Square.
Dahlmann had architect Brian Charlton of JJR LLC join him in talking about features of his proposal, one of which includes a life-size bronze "Alice in Wonderland" sculpture similar to one in New York's Central Park. Another feature of Dahlmann's proposal that's been popular with residents is an outdoor ice skating rink in the winter. The committee, however, questioned the need for another ice skating rink in Ann Arbor.
Dahlmann said the site would be inviting to the masses in the summer as well. Springing from a sculptural glass orb, would be a water-based feature that would include art, interactive jets, cascading water, wading areas and an elegant granite "water wall" that would wind through the square and culminate in a display of dancing water jets in the central fountain set in the Great Lawn.
Other features include a creative promenade, reading garden, chalkboard wall to be used by artists, town square pavilion and a serpentine bench that would wind through the park. Charlton said there even could be musical stepping stones that would produce notes as children step on them and nearby retail opportunities that could include a hot chocolate bar or coffee station.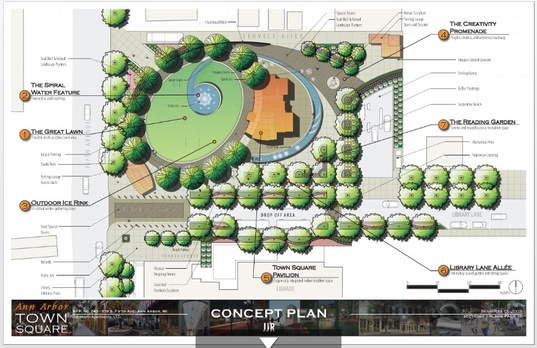 Courtesy of developer
The developer said goals of the project are to provide access to open space for downtown residents, offer a setting for public gatherings and cultural events, and give downtown workers a place to take breaks. He also said his group hopes for opportunities for complimentary library programming.
Following discussion of the Town Square proposal, Ann Arbor residents Alan Haber and Alice Ralph made a separate pitch for their Commons idea. They acknowledged their idea for open space is stacked against larger development opportunities that include three hotel-related proposals.
"The economic value of downtown open space is well documented - community is priceless," Ralph argued, pointing to the success of Millennium Park in Chicago, which she said more than paid for itself in its first year.
Ralph also referenced Detroit's Campus Martius Park, which is the result of a public-private partnership between the city of Detroit and the nonprofit Detroit 300 Conservancy. The idea of a nonprofit group to oversee the park was discussed at length by both presenters on Tuesday.
"The commons has the view that this land belongs to the people and the people will desire it and run it and program it," Haber said, adding that it would be a self-governed, self-sufficient and self-financed nonprofit organization.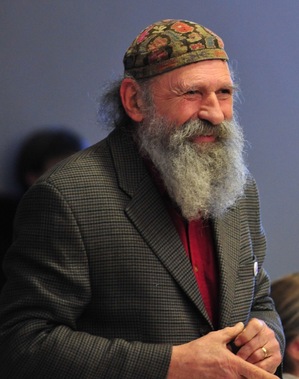 Ryan J. Stanton | AnnArbor.com
Haber said he envisions a situation where surrounding properties - including restaurants like Seva, Jerusalem Garden and Earthen Jar - would naturally turn to orient food service and seating toward the Commons.
The Commons would have an improved walkway connection with nearby Liberty Plaza. Haber said the vision is that Liberty Plaza might be considered more of a "pocket park," while the Commons would be more of a "central park" capable of hosting large public events.
By the end of the three-hour discussion, presenters of both proposals agreed there might be room for collaboration of ideas.
"That could be completely possible with those two or either one of those in conjunction with some of the ones we might hear tomorrow," Rapundalo said. "I think the possibilities are perhaps not endless, but they certainly are many, and I would hope that we will be able to get to some of that once we perhaps narrow down the field and then turn and say, 'Well, are you willing to talk to so-and-so, or are you willing to consider this concept design element into your design?'"
Rapundalo said he didn't hear any surprises Tuesday.
"Generally speaking, there weren't any surprises from the presentations and the responses to questions with both of those options," he said. "We did hear some firmer commitments and elaboration from the first proposal, the Ann Arbor Town Square. But I for one was still less than satisfied with the level of detail by the Ann Arbor Commons and their lack of understanding or willingness to understand the business nature of this whole initiative."
Haber said financing construction on the Commons could happen in several ways, including raising support from the community. But he argued Tuesday that there is money in the existing budget of the Downtown Development Authority's bonded underground parking structure project.
He said an estimated $4 million - based on a contractor's estimate - would be saved from reducing the enhanced foundations of the soon-to-be-built parking structure on the Library Lot. He said with the Commons idea there's no need to install infrastructure to support a potentially 15-story building.
Dahlmann today cited a cost range of $2.5 million to $5 million for the Town Square project, acknowledging his firm would be willing to kick in $2.5 million toward the effort. Any costs over and above that amount would have to be discussed, the developer said, though acknowledging opportunities to apply for grants and raise funds privately in the community exist.
Rapundalo said the vision for a town square as presented by Dahlmann was impressive, but was vague on what could be achieved at no cost to the city.
"The questions from the panel were focused on that - is that $2.5 million or is that the $5 million?" Rapundalo said. "Because as you heard one of their respondents say, 'Well, it depends on what kind of features you put in.' Well, of course we understand that, but as shown, which end of the scale is it?"
Haber suggested the idea that all parties involved could pool their resources. With Dahlmann's pledged $2.5 million, $4 million from the DDA's parking structure budget, and other donations that may come in, Haber said the project would be off to a good start and could grow from there.
Ralph suggested the idea that while construction continues on the underground parking structure over the next two years, a committee of citizens could spend that time firming up a plan for the Commons.
"This concept is a wonderful beautiful concept. I understand the value that it could bring to the city," Rapundalo told the presenters of the Commons proposal. "The bottom line is, it has to pay for itself."
Interviews with three of the four other proposals continue today inside the downtown library. Rapundalo announced Tuesday that one of the proposals - a senior housing complex idea proposed by Beztak Land Co. - has been withdrawn by the developer.
Rapundalo said RFP review committee members will be sitting down on Thursday with city staff members to openly discuss what they heard during the presentations this week. He said it's likely the group will score the proposals and narrow the field of proposals. The city is then planning to bring in a consultant to evaluate the feasibility of the remaining proposals.
Among concerns brought out Tuesday were that an urban park on South Fifth Avenue, between Liberty and William streets, could potentially take away from activities that historically have occurred on Main Street. The presenters also responded to concerns that - similar to what currently happens at Liberty Plaza - an urban park would just draw more homeless people.
Dahlmann said from talks he had with Josie Parker, director of the Ann Arbor District Library, library officials had concerns that an open space next to their building would attract "vagrants." Parker disagreed with Dahlmann's characterization, saying the library's only concern is that operating such a large public space is a huge responsibility that the proposers don't seem to be willing to take on and that creates the risk that the library might find itself next door to a "tremendous failure."
"The possibility of harm to the public library is tremendous if this is not successful, and we're just one neighbor," Parker said.
Ryan J. Stanton covers government for AnnArbor.com. Reach him at ryanstanton@annarbor.com or 734-623-2529.