Posted on
Sun, May 6, 2012 : 5:28 p.m.
U.S. Attorney General Eric Holder urges U-M law graduates to 'improve the course of our country'
By Kellie Woodhouse
U.S. Attorney General Eric Holder urged graduates of the University of Michigan Law School Sunday to pursue careers in public service and "contribute to the strength of this country."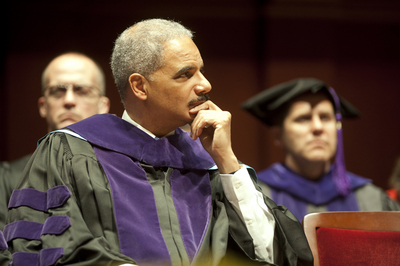 Nick Dentamaro | For AnnArbor.com
"Set aside your concerns about job prospects (and) consider why, of all things, you decided to become lawyers," Holder said before a crowd of thousands at the Law School's Senior Day Ceremony at Hill Auditorium Sunday afternoon. "Protect the rights of others…. Starting now that is precisely what you must do."
Holder told graduates they were "entering an uncertain world, one burdened by economic difficulties" at a time when social "disparities still remain" and the "poorest among us continue to suffer the most." He emphasized the role of lawyers in social change, saying they were integral in abolishing slavery, establishing women's right to vote and the civil rights movement.
"You must resist the temptation to feel as though you've been dealt a bad hand. In fact what you've been given is a chance to create change," Holder said. "Times of difficulty… are the most exciting and consequential times to be a lawyer."
"It is your time to improve the course of our country and world," he continued.
Among the 300-plus graduates are a former engineer, shoe designer, wilderness ranger, reporter, and sheep farmer. Many will spread among 100 cities this summer and begin their first fulltime legal career in settings ranging from large corporate litigation and finance firms to boutique general practice offices.
One-quarter of graduates reported accepting careers in public service or in firms and non-profits dealing with public interest issues, including criminal defense attorneys, U.S. Navy J.A.G. officers and advocates for foster children and children of illegal immigrants.
Stephen Gilson, a class-elected Senior Day student speaker, echoed Holder's imperative and asked graduates not to trade the interests that originally led them to law school for financial security.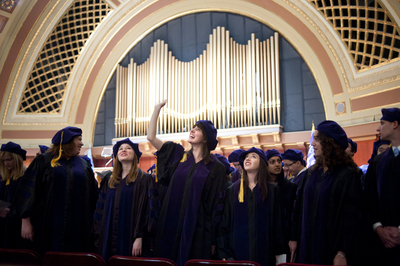 Nick Dentamaro | For AnnArbor.com
"We have to reject the idea that these are in fact the choices we have… financial security and pursuing a passion for change," he said. "Growing up does not have to be synonymous with giving up.'
Added Law School Dean Evan Caminker: "Learning to argue both sides of an argument makes it difficult to recognize in the end what side you are on (but) thinking like a lawyer does not require you to abandon your passions."
In 2008 President Barack Obama appointed Holder attorney general — or what Caminker called the "managing partner of the largest law firm in existence" where he "has to make these decisions in the glare of the spotlight and where the stakes could not be higher."
Holder told graduates that they too face high stakes and encouraged them to use their new degree "to make this world, your world, a better place" so they don't have to think of "what might have been" later in life.
"I realize that I am asking you to take up and to carry forward some very weighty responsibilities," he said. "Shape and improve the world that we share: That is your mission and that, class of 2012, is your responsibility."
Holder is also giving the keynote speech at Harvard University's law school commencement later this month. Previous U-M Senior Day speakers include U.S. Sen. Rob Portman and senior White House adviser and U-M Law School alumnus Valerie Jarrett.
Kellie Woodhouse covers higher education for AnnArbor.com. Reach her at kelliewoodhouse@annarbor.com or 734-623-4602 and follow her on twitter.