Posted on
Wed, Mar 23, 2011 : 1:15 p.m.
U.S. Census figures show gains in Ann Arbor Asian, Hispanic population, loss of white, black residents
By Juliana Keeping
This story has been updated with additional information.
Ann Arbor is still a melting pot — but one that includes fewer black and white residents, and more Asian and Hispanic residents than in 2000, figures from the 2010 U.S. Census reveal.
Hody List, an agent with Edward Surovell realtors, has noticed the changes. List was born in Hong Kong and speaks Mandarin and Cantonese. She said she has no shortage of Asian clients looking for housing in recent years - about half of her clients, she said, are Asian, and most of those are Chinese born.
Ann Arbor's Asian population has grown by 20 percent since 2000 and now numbers 16,393. At least 2,861 additional Asian residents have moved to Ann Arbor since the last census, the new figures show. Asians make up 14.3 percent of the city's total population and are the largest minority in Ann Arbor.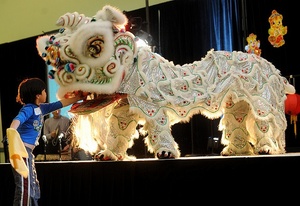 Melanie Maxwell | Ann Arbor.com
Most often, List's clients are looking to settle in northeast Ann Arbor or northwest of the city, and they tell her they're here to work at the University of Michigan Health System or to study on north campus at the University of Michigan, the school's computer science and engineering stronghold.
The number of residents who call themselves Hispanic has also grown by 22 percent. The city added 852 Hispanic residents since 2000. that brings the total to 4,666, or 4 percent of Ann Arbor's population.
Those increases come while the overall population in Ann Arbor fell by a fraction of a percent, from 114,024 in 2000 to 113,934 in 2010, according to U.S. Census figures released Tuesday.
Lisa Neidert, a senior research associate with U-M's Population Studies Center, said Ann Arbor's gains in Hispanic and Asian residents are modest compared to those in Washtenaw County and the state as a whole.
"I was expecting a slightly higher population growth for Asian growth," Neidert said.
In Washtenaw County and in Michigan, the Asian population grew by about a third, while Washtenaw County has 56 percent more Hispanics than 10 years ago, and the state has about 34 percent more.
Around the country, even cities that lost thousands of residents showed gains in their Asian populations, Neidert said, although Detroit, which lost a quarter of its population, did not.
In Ann Arbor, white residents still make up the majority, about 70 percent, of the population in Ann Arbor, but there are fewer of them. In 2000, Census workers counted 82,975 white residents. In 2010, that number dropped about 3 percent to 80,158.
About 1,248 black residents have left Ann Arbor in the last decade, Census figures show. There were 9,906 black residents in Ann Arbor in 2000, but only 8,658 in 2010, about a 13 percent decrease, compared to a 10 percent increase countywide.
Black residents make up about 7.6 percent of the population of Ann Arbor, the figures show.
Juliana Keeping is a health and environment reporter for AnnArbor.com. Reach her at julianakeeping@annarbor.com or 734-623-2528. Follow Juliana Keeping on Twitter