Posted on
Wed, Jun 23, 2010 : 2:40 p.m.
U.S. Geological Survey confirms earthquake in Canada, felt here in Ann Arbor
By Amalie Nash
Did you feel the ground move in Ann Arbor just before 2 p.m.?
A 5.0-magnitude earthquake has been confirmed at 1:41 p.m., with the epicenter 40 miles north of Ottawa on the border of Quebec and Ontario, according to the U.S. Geological Survey.
An aftershock occurred about 10 minutes later, said Don Blakeman, a geophysicist with the National Earthquake Information Center. The quake was felt throughout New England and Pennsylvania; no injuries have been reported, he said.
The earthquake rattled buildings from Windsor to Montreal and several U.S. states, the Globe and Mail in Canada reported. The U.S. Geological Survey said the quake occurred at a depth of 9.8 miles.
It was also felt here in Ann Arbor. Many local residents - especially those on upper floors of higher buildings - say they felt the ground shake for about 30 seconds.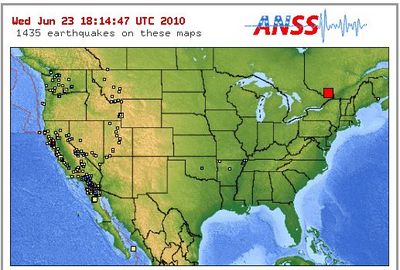 "What we felt is just the seismic waves from that event," said Amy Bengtson, a post-doctorate fellow at the University of Michigan's Geological Physics department. "It was large enough that we would expect to feel it here."
Bengtson said the energy released from the earthquake was about 1,000 times smaller than the one that devastated Haiti earlier this year.
"We would not expect any damage here" in Ann Arbor," she said.
Ann Arbor police said they haven't received any reports of damage in the city.
Michigan State University's College of Wooster Seismograph Station registered a rumble at 1:50 p.m., according to an official at the state of Michigan's Office of Geological Survey.
Workers on the sixth floor of Ann Arbor's city hall said items on top their desks started shaking and copy machines started rattling. At first, they dismissed it as normal disruption from the police-courts building construction going on next door, but quickly realized it was more than that.
City Planner Matt Kowalski said he felt an earthquake without question.
"You could actually see my water on my desk shake," he said. "I've been around before when they've had a couple other earthquakes in Michigan. This one, though, it was long enough to where I stood up and actually still felt the ground swaying. You could feel the building swaying."
Steve Bostedor, 37, said he felt the ground move at his Dexter Township office.
"I was sitting here and the building we are in has a kind-of suspended floor and I thought it was someone walking by us at first," Bostedor said. "It felt like a gentle rocking back and forth.
"So I picked my feet up off the floor and my chair was rocking, too. I looked out the window and we have a metal pole and that was rocking back and forth. And I thought that was weird."
Bostedor estimated he felt the shaking for about a minute.
Workers at digital marketing firm Pure Visibility on the fifth floor of Ann Arbor's 10-story 1920s era First National Building felt the building gently shaking.
"The floor was moving my leg as I sat cross-legged in my desk chair," Pure Visibility's Dunrie Greiling said in an e-mail. "The folks around me started talking about how there was supposed to be crazy wind-weather, but it didn't feel like wind (and the windows weren't making any wind noises). It lasted what seemed to be a long time, but may have been 10 seconds or so?"
The National Weather Service in White Lake Township - already busy with thunderstorm activity - also received multiple calls about the earthquake, said meteorologist Danny Costello.
"I didn't feel it - I missed out," he said.
As for those severe storms, a second round is still expected later this evening - but may not be as bad as originally expected. The earlier storm system was weaker than first predicted.
The National Weather Service said at 3 p.m. that the storms will be possible south of M-59 between 5 p.m. and 11 p.m.
The last time an earthquake was felt in Ann Arbor was on April 18, 2008. That quake was centered 6 miles of West Salem, Ill., and was felt in Chicago, Cincinnati and Milwaukee. It did not result in significant damage or injuries.
AnnArbor.com's Stefanie Murray, Lee Higgins, Ryan Stanton and Nathan Bomey contributed to this report.
Did you feel it? Where were you?