Posted on
Tue, Jul 17, 2012 : 12:10 p.m.
U.S. News & World Report ranks UMHS first in the state, among top 20 in nation
By Amy Biolchini
U.S. News and World Report has ranked the University of Michigan Hospitals and Health Centers No. 1 in the state and in the metro Detroit area for health care, hospital officials announced Tuesday.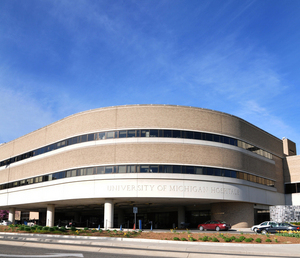 University of Michigan Health System photo
The 2013 "America's Best Hospitals" rankings also list UMHS as 17th in the nation. The designation marks the 18th straight year in a row the health system has been named to the report's honor roll. Last year, UMHS ranked 14th nationwide.
St. Joseph Mercy Ann Arbor Hospital was ranked 12th out of 67 hospitals in the metro Detroit area and 16th out of 176 hospitals in Michigan for health care.
This is the first year U.S. News has released statewide hospital rankings and the third year for the metro area ranking. Hospitals are ranked mostly according to objective data, much of which comes from the federal government. The data includes death rates, the number of patients and ratios, such as the balance between nurses and patients.
To make the honor roll, hospitals have to excel in specialty care areas. To make a top ranking in specialty care divisions, a hospital must meet one of the following criteria:
Be a teaching hospital
Be affiliated with a medical school
Have at least 200 beds
Have at least 100 beds and offer at least four of eight specific medical technologies
One factor that goes into specialty care rankings is reputation scores from physicians.
U.S. News analyzed 4,825 hospitals across the country. Only 140 of them performed well enough to rank in even one specialty area of care.
U-M is the only hospital in Michigan to make the national honor roll, a designation hospital administration attributes to strong collaboration between the hospital and medical school, the full spectrum of services it offers and the access to partnerships with experts across the university.
The health system has also been ranked in the top 20 nationally for seven specialty care areas: cancer; diabetes and endocrinology; ear, nose and throat; geriatrics, ophthalmology; rheumatology and urology.
In the metro Detroit area, the top five hospitals ranked by U.S. News are as follows:
University of Michigan Hospitals and Health Centers in Ann Arbor
Beaumont Hospital in Royal Oak
Harper University Hospital in Detroit
Henry Ford Hospital in Detroit
Beaumont Hospital in Troy
Amy Biolchini covers Washtenaw County, health and environmental issues for AnnArbor.com. Reach her at (734) 623-2552, amybiolchini@annarbor.com or on Twitter.