Posted on
Sat, Jan 28, 2012 : 5:59 a.m.
Presidential visits to University of Michigan date back to 1892
By Kellie Woodhouse
President Barack Obama's speech on Friday prompted thousands of University of Michigan students to camp overnight for tickets and get up abnormally early on a Friday meeting to see him speak.
More than one student told AnnArbor.com that seeing a president in person is "a once in a lifetime opportunity."
At U-M, though, presidential visits are not that unusual.
At least 13 presidents have visited the Ann Arbor campus, including U-M alumnus Gerald Ford.
Visitors include Grover Cleveland, William McKinley, William Howard Taft, Benjamin Harrison, Theodore Roosevelt, Woodrow Wilson, John F. Kennedy, Lyndon Johnson, Jimmy Carter, George H.W. Bush and Bill Clinton. Although George W. Bush has visited Michigan State University, he's never made it U-M.
AnnArbor.com picked out a few photos of past visits:
Photo courtesy of Bentley Historical Library
When John F. Kennedy first visited U-M on Oct. 14, 1960, he was still a Massachusetts senator and less than three weeks from being elected the 35th U.S. president. Kennedy spoke from the steps of the Michigan Union and challenged students to use their skills in needy areas, including developing countries. The concept led to the founding of the U.S. Peace Corps shortly afterward. According to U-M, more than 5,000 students showed up to listen. You can listen to an excerpt of Kennedy's speech here.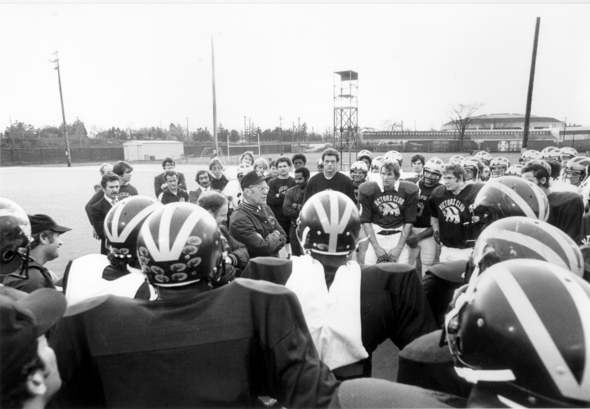 Courtesy of Bentley Historical Library
Gerald R. Ford —the namesake of U-M's public policy school— attended Michigan as an undergraduate and played center and linebacker for the school's football team before graduating in 1935. In this photo, Ford is seen visiting Wolverine football players during practice in 1977, months after finishing his term as president. A gifted athlete, Ford turned down offers to play for the Detroit Lions and Green Bay Packers, choosing instead to study at Yale Law School, where he also helped coach football.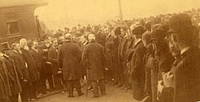 Photo courtesy of Bentley Historical Library Levi D. Wines photograph collection.
According to U-M reports, some 2,000 students greeted Grover Cleveland when he arrived at the Ann Arbor train station on Feb. 22, 1892. He attended a luncheon at U-M that day. Cleveland was in-between his two White House terms during his visit.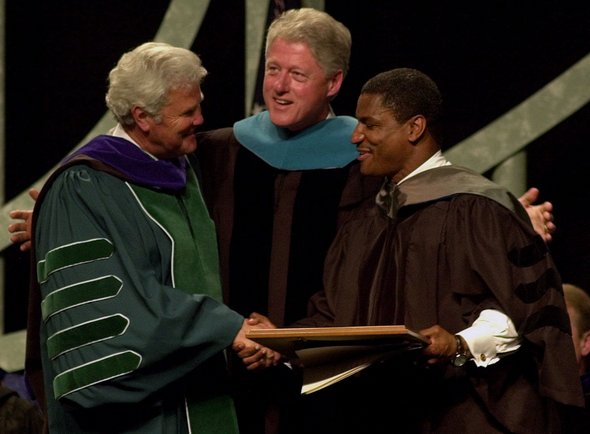 AP Photo
Bill Clinton spoke at Eastern Michigan University's spring 2000 commencement. Eight years later, in spring 2007, Clinton would give the commencement address at the University of Michigan. Clinton also spoke at Rackham Auditorium on Oct. 24, 2010, in an effort to help the reelection campaign of U.S. Rep. John Dingell, D-Dearborn.
Kellie Woodhouse covers higher education for AnnArbor.com. Reach her at kelliewoodhouse@annarbor.com or 734-623-4602 and follow her on twitter.