Posted on
Fri, Jan 27, 2012 : 8:25 a.m.
U.S. Secretary of Education says tuition is skyrocketing nationwide
By Kellie Woodhouse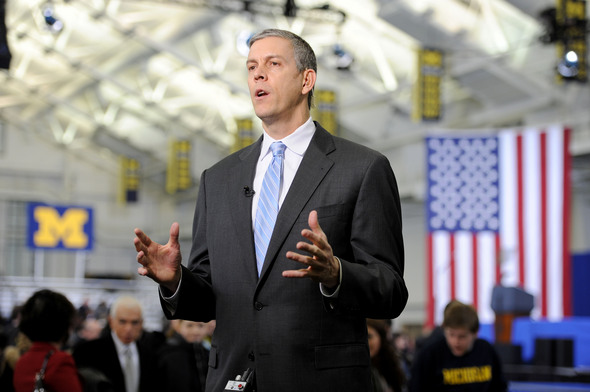 President
Barack Obama
chose one of the nation's most expensive public universities in a state beleaguered with higher education funding cuts to give a speech on sweeping college affordability changes.
Why?
According to U.S. Secretary of Education Arne Duncan Obama decided to speak at the University of Michigan in Ann Arbor because the school has "longterm value."
Duncan cited the university's 90 percent graduation rate and the fact that most students get jobs shortly after graduating.
"It represents many things that are going right," Duncan said.
Obama is speaking about college affordability at the Al Glick Field House in Ann Arbor at 9:35 a.m. today. He is expected to unveil financial incentive programs intended to encourage colleges to keep their tuition low.
"Tuition is skyrocketing much faster than the rate of inflation," Duncan said, adding that many middle-class Americans believe college is becoming out of reach for them.
U-M's tuition went up 6.7 percent last year. The cost for an out-of-state upperclassmen to attend U-M is estimated at $53,006 per year, one of the highest rates at any U.S. public university. In-state students pay about half that at $26,810.
As tuition rose last year, state investment sunk by $47.5 million. The state this year funded 17 percent of U-M's general fund, a record low.
"He's asking states to maintain their commitment and he's asking universities to do their part," Duncan said of Obama's upcoming speech. "No one gets a pass at this."
Kellie Woodhouse covers higher education for AnnArbor.com. Reach her at kelliewoodhouse@annarbor.com or 734-623-4602 and follow her on twitter.