Posted on
Wed, Apr 6, 2011 : 7:11 p.m.
Vada Murray, Ann Arbor police officer and former Michigan football player, dies after long battle with cancer
By AnnArbor.com Staff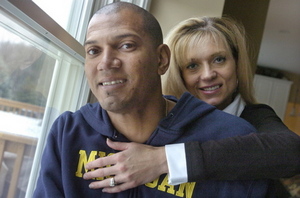 Vada Murray, an Ann Arbor police officer who played football at Michigan, died today after a long battle with advanced-stage lung cancer.
Michigan athletic director Dave Brandon posted the following on his Twitter account at 6:40 p.m. tonight:
"Sad news-Vada Murray passed away today. UofM Athletics offers its condolences to the family."
Murray's battle with lung cancer was first chronicled by the Ann Arbor News in 2008. He was diagnosed at age 41 despite never smoking. His parents never smoked, either.
Murray joined the Ann Arbor Police Department shortly after his playing days as a free safety at Michigan (1988-90) were complete.
Murray is survived by his wife, Sarah, and three children. Sarah Murray maintained a website with updates on Vada that has received more than 45,000 visits.