Posted on
Fri, Jul 15, 2011 : 2:49 p.m.
Vandals deface East Delhi Bridge in Scio Township
By Lisa Allmendinger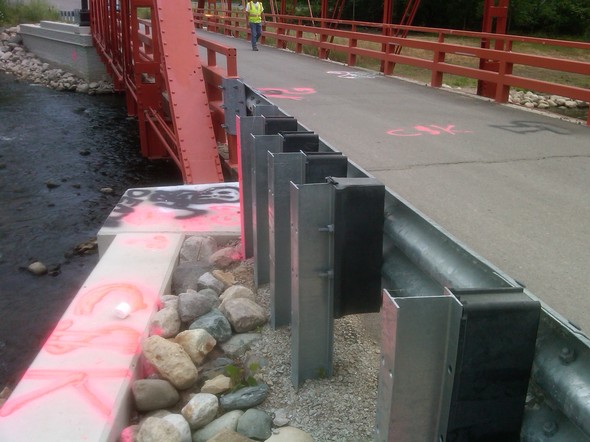 Courtesy photo | For AnnArbor.com
Vandals painted multi-colored graffiti on the rehabilitated
East Delhi Bridge
in Scio Township and
Washtenaw County Road Commission
officials are looking for anyone who might know who is responsible.
Roy Townsend, county highway engineer, said three signs, the railings, retaining wall, entrance, abutments and the bridge itself was tagged with different colors of paint.
He estimates that there is about $2,000 worth of damage - that the signs alone cost about $200 apiece.
Ironically, it was Rich Cook, a member of the East Delhi Bridge Conservancy, who worked for years to save the 116-year old bridge from being replaced, who found the damage Wednesday night, Townsend said.
Almost two years ago this month, about 50 people watched as two cranes lowered the one-lane, 116-year-old refurbished East Delhi Road bridge truss onto its new abutments in the Huron River.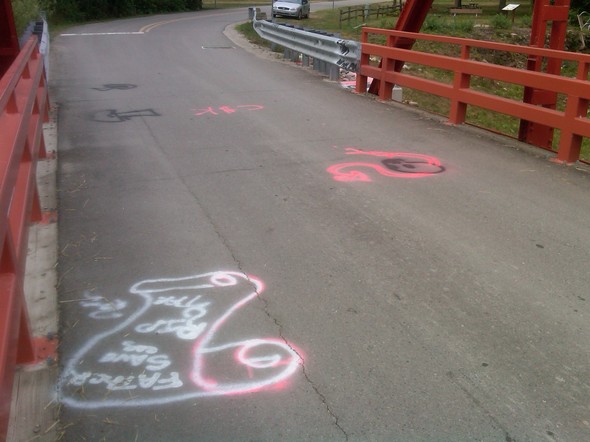 Courtesy photo | For AnnArbor.com
The Road Commission had closed the bridge to motorists for safety reasons in June 2005 and residents in the small hamlet to the south of the bridge formed a conservancy and worked for years with the state and the Road Commission to have the bridge rehabilitated rather than replaced.
In fact, residents in the area agreed to a special assessment district to pay for future maintenance of the bridge, but this falls outside routine maintenance costs, Townsend said.
The Road Commission is asking anyone with any information about the vandalism to call 761-1500.
Metro park police are investigating, he said.
Similar vandalism has occurred in two or three other locations in the county and Townsend said, "We've caught the person."
Lisa Allmendinger is a regional reporter for AnnArbor.com. She can be reached at lisaallmendinger@annarbor.com.