Posted on
Tue, Jun 4, 2013 : 3:22 p.m.
Crash shuts U-S. 23 south of Ann Arbor
By AnnArbor.com Staff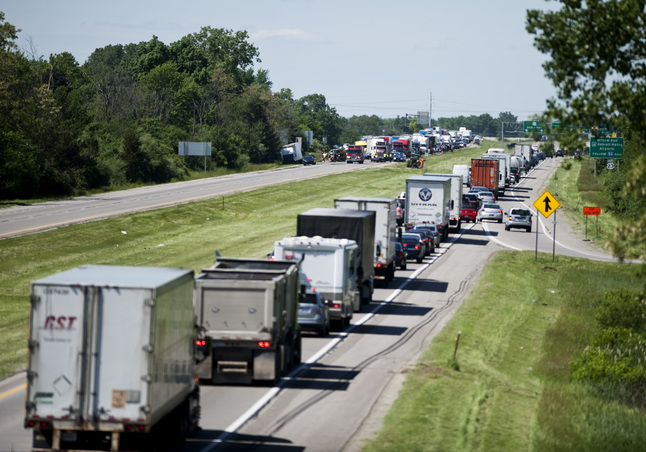 Daniel Brenner | AnnArbor.com
A crash involving a semi truck and loader on southbound U.S. 23 in Ann Arbor left one driver in critical condition and shut down the freeway Tuesday afternoon, authorities said.
The driver of the loader was being transported to St. Joseph Mercy Hospital in critical condition around 3:30 p.m. as a result of the crash, which occurred just north of Michigan Avenue, said Joyce Williams of Huron Valley Ambulance.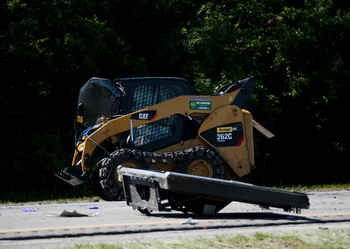 Daniel Brenner | AnnArbor.com
Southbound U.S. 23 in that area was closed as of 3:40 p.m., according to officials. The Washtenaw County Sheriff's Office issued an alert at that time telling motorists to avoid the area of U.S. 23 and I-94 for the next several hours due to the traffic incident.
Debris from what appeared to be a yellow Caterpillar skid-steer loader was visible in the middle of the freeway.
"(The driver) was crossing the expressway with it when it was struck," said Michigan State Police Sgt. Mark Thompson.
Thompson said the operator of the skid-steer loader was ejected form the vehicle and suffered serious injuries. The operator "failed to yield," Thompson said.
The driver of the semi was also taken to St. Joe's with minor injuries.
Jim Harmon, director of operations for the Washtenaw County Road Commission, said a contractor has been doing mowing work in that area this week.
At 4:15 p.m., traffic on southbound U.S. 23 was backed up from the scene of the accident near I-94 north to Geddes Road with motorists getting out of the vehicles due to the length of the traffic jam.
The freeway was expected to be closed until about 7 p.m., Thompson said. More information on the incident could be released Wednesday.
AnnArbor.com reporters Kyle Feldscher, John Counts and Amy Biolchini contributed to this story.

View Crash June 4 in a larger map