Posted on
Mon, Oct 31, 2011 : 5:35 p.m.
Halloween prank? Sign warns of velociraptors in Ann Arbor
By Cindy Heflin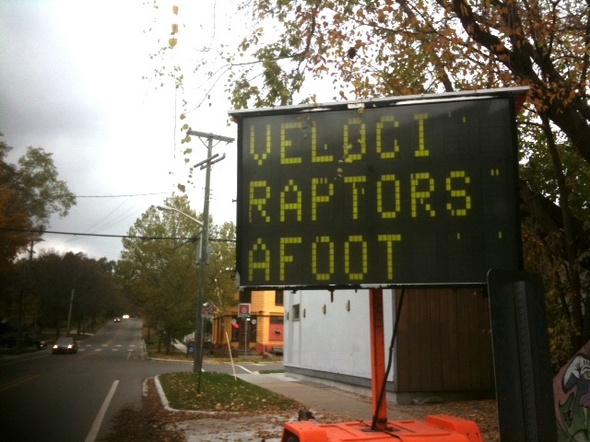 Bob Needham | AnnArbor.com
Trick-or-treaters wandering about the neighborhoods near Ann Arbor Open School might want to be extra cautious this evening.
An electronic road sign on Miller Avenue near Spring Street in Ann Arbor bears an ominous message today: "Velociraptors afoot."
The warning about the carnivorous dinosaurs featured with scary prominence in the movie "Jurassic Park" caught the attention of Michigan Radio's Mark Brush, who created a blog post about it today.
Kirk Pennington, field operations supervisor for the City of Ann Arbor, said the sign was likely used for some recent roadwork on the street. He said it might belong to a contractor. But he said the signs are easy to hack if whoever owns them hasn't changed the default password. A keyboard on a box attached to the sign can be used to change the message, or it could be hacked remotely, he said.