Posted on
Sat, Jul 24, 2010 : 8:37 p.m.
Vendors blame weather for downturn at Ann Arbor Art Fairs
By Heather Lockwood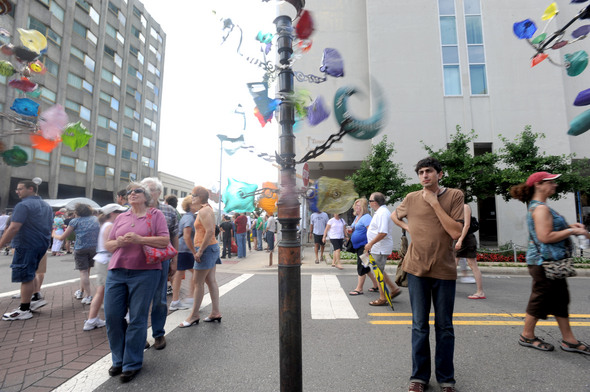 Angela J. Cesere | For AnnArbor.com
Kati Russell has been selling her art at the Ann Arbor Art Fairs for a decade and says sales were particularly slow this year, likely due to the unpredictable weather.
"This is the first year it's been slow," said Russell, a painter and resident of Akron, Ohio. "(My sales this year) are probably 5 percent of my normal sales."
Russell said she thinks a lot of artists pulled out early this year due to the down sales, and the fairs were closed early Friday due to thunderstorms.
"Those of us who are still here are the ones who live on our art - we can't afford to leave," said Russell, who sells reproductions of her original paintings, all of angels, which she began making after having what she says was a near death experience in 1996.
Jewelry maker Martin Taber, of Berkeley, California, also noticed a change in business from fairs past. "Business seems low compared to last year," he said as he displayed his gold and silver creations Saturday afternoon.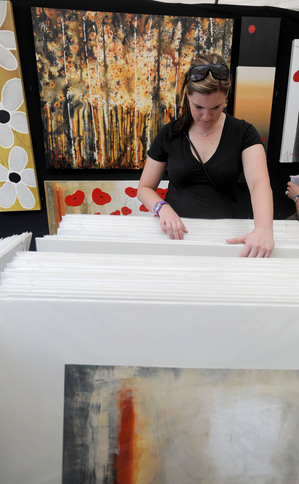 Angela J. Cesere | For AnnArbor.com
Maggie Ladd, director of the South University Art Fair, said weather was "a hindrance" to fair attendance this year.
"We had a really great day today—all the days started out really well," Ladd said Saturday. "Because of the weather situation, the days got cut short."
Debra "Max" Clayton, executive director of the Guild of Artists and Artisans, which organizes the Ann Arbor Summer Art Fair, said while no official attendance estimates were available as of Saturday evening, she was pleased with this year's turnout.
"I think we really had one of the best attended fairs in a while. I think people really came out and enjoyed the event," Clayton said. "We always say (attendance is about) 500,000—I think we were definitely close to 600,000 this year."
One indicator, Clayton said, was that "throughout the event, there were lines at every trolley stop."
Vasudeva Mahavisno browsed the artists' booths Saturday with his wife Rekha Lalwani. The Ann Arbor couple said they attend the art fairs every year, usually all four days, but this year weather kept them away for part of it.
"I think the weather really has taken a toll. We typically come out all four days ... but not this year because of the rain," Mahavisno said.
As far as purchasing any art, he said, "We're still looking. We haven't found any yet. There's some good artists."
It was a metal sculpture of a venus fly trap that caught Ed Halt's eye Saturday. Halt, of Roseville, stood with his son Ted Halt and their new piece of art.
"It was cool. We bought it," Ed Halt said. "We bought a few things—$400 later, you know how it is."
When asked what inspired him to travel from his home in Las Vegas to the Ann Arbor Art Fairs, Micky Leganik replied, "The art did."
"I think the first time (I came to the art fairs) was when I was 12 and now I'm 60," Leganik said as he strolled through the crowds with friend Alela Hennessy.
"I love the art fair. I come here every year," said Hennessy, of Toledo. "It's as busy as I remember it."
Ladd said art fair attendance will be determined by Ann Arbor Transportation Authority, trolley, and shuttle ridership and parking.
Heather Lockwood is a reporter for AnnArbor.com. Reach her at heatherlockwood@annarbor.com or 734-623-2536. You can also follow her on Twitter.