Veterans Memorial Park Pool remains on schedule to reopen Wednesday
Posted on Mon, Jul 9, 2012 : 11:46 a.m.
Replacement parts for the broken main pool pump at Veteran's Memorial Park Pool arrived as expected Monday morning and the public pool still is on schedule to reopen Wednesday.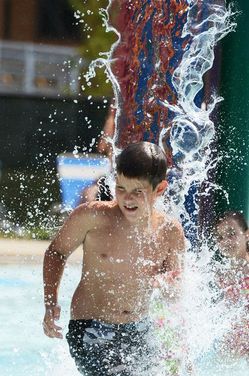 Melanie Maxwell | AnnArbor.com
The public pool has been
closed since July 1
after experiencing what Ann Arbor city officials at the time referred to as a "catastrophic" mechanical failure of the main pool pump.
Three days before the Fourth of July, and during a week when temperatures soared to record-setting levels, the timing of the pool's closing could have been catastrophic as well, but was handled about as well as anyone could have hoped, said Dennis Simon, facility supervisor for Vet's.
Swim practices for the 150-member swim team were held at Skyline High School and residents looking to beat the heat were directed to outdoor pools at Buhr Park or Fuller Park.
Simon said very few people drove up to Vet's, located at 2150 Jackson Road, expecting it to be open, and those who did were very understanding.
"I think between the (news) stories and City Hall getting all the information out there and getting info up on our website, we didn't have that many (who didn't know about the closing)," Simon said. "The people who did show up were really good about it."
Simon said installation of the new parts will begin either late Monday or early Tuesday and that regular pool hours should resume Wednesday morning.
Even with power outages sweeping across the city, record high temperatures and Vet's being closed, Fuller Park Pool never reached its 1,250-person capacity.
"We came pretty close to capacity, but never turned anybody away," said Dan McGuire, facility manager at Fuller Park Pool. "We can spread people out pretty well."
Officials from Buhr Park Pool were not available for comment.
Contact Pete Cunningham at petercunningham@annarbor.com or by phone at 734-623-2561. Follow him on Twitter @petcunningham.