Posted on
Thu, Nov 11, 2010 : 6:04 a.m.
Veteran who had leg amputated helps Ann Arbor VA patients who are facing a similar fate
By Juliana Keeping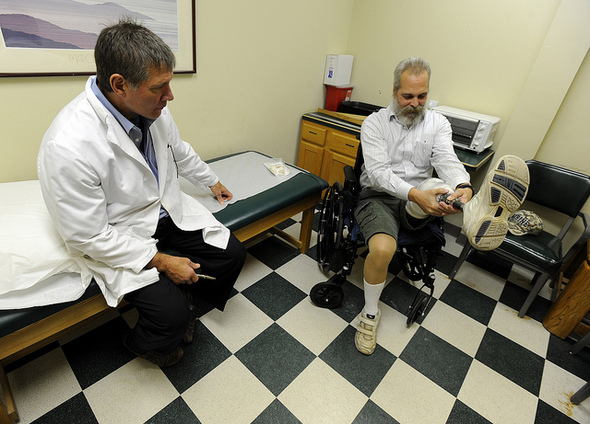 Lon Horwedel | AnnArbor.com
Marine veteran Richard Cutler served a tour of duty in Vietnam.
But that's not how he lost his leg.
The day he rushed to help an elderly neighbor who fell off a ladder, Cutler landed in a ditch and broke his ankle. Eight years worth of complications followed, including vascular problems and an infection that coursed throughout his bloodstream. Doctors gave him a choice: Lose the leg or die.
"It was one of the hardest and yet one of the easiest decisions I've ever had to make," said Cutler, who joined the Marines in 1970 at age 17 and served in Vietnam from 1972 to 1973.
The 2005 amputation of his left leg just below the knee put Cutler among the ranks of aging veterans who have lost a lower extremity due to vascular problems or infections. It also put him in a unique position to help other vets facing a similar fate.
The Ann Arbor VA Hospital is currently treating 67 veterans who have had a lower extremity amputated. Nationally, 6,725 VA-affiliated veterans are in the same situation.
The current conflicts in Iraq and Afghanistan have produced thousands of amputees as well, with 87 percent of 1,128 combat amputees out of Operation Iraqi Freedom and Operation Enduring Freedom under the age of 34, according to Walter Reed Medical Center officials. But active duty military personnel are treated at Department of Defense Hospitals rather than the VA system, with rare exceptions. The average age of an Ann Arbor VA amputee is 65.
Diabetics in particular are at risk for amputations, said Leslie Westbury, chief of physical therapy at the Ann Arbor VA. Complications from diabetes can cause sores on the feet. The sores become infected, and the infection spreads. Vets sometimes hide sores fearing amputation, she said.
In Cutler's case, the cast on his ankle following the 1997 accident was just too tight. The mistake led to blood clots, circulatory problems, and eventually the infection that almost killed him.
Cutler, 57, considers the Ann Arbor VA's Peter Henke, the chief of surgery who performed his amputation, a hero. He teared up while talking about the physical loss he felt and the hell his father went through seeing him struggle with years of physical problems followed by a devastating amputation.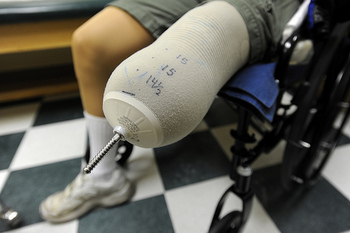 Lon Horwedel | AnnArbor.com
"I get emotional, and I'm not going to apologize for that," said Cutler, a Toledo resident who hails from Waterford.
"You treat it like a funeral," he said of the amputation. "You mourn if you've lost a part of your body. "
"It's an indignity, but, you know what? Life goes on. I'm lucky."
He admits there was a time he pitied himself. He refused to work much with his therapists.
Westbury remembers that time.
"He was stubborn at first," she said. "But he realized in order to do well, he had to follow our directions."
After that awakening, Cutler started helping other vets. He gets a call from Westbury or her staff when vets facing amputations want to talk to someone who's been through the same thing — someone who knows what it's like to lose a leg.
He makes his rounds on his own visits, too.
Wearing a camouflage Marine-emblazoned baseball cap, Cutler visited the VA on Wednesday to see about a new wheelchair. He'd prefer to use a prosthetic leg, but he's been healing since a July surgery to remove a bone spur that developed near the tip of his amputated limb.
He stopped on the physical therapy floor, where recent amputees Don Swanson, 48, and David Hill, 48, practiced leg lifts and other exercises on big cushioned tables.
"Hey, Skippy, you got your hair cut," Cutler said to Swanson.
Swanson had his left leg removed above the knee Oct. 4, following a years-long battle with a knee replacement. His body rejected the new knee, causing an infection that spread to his bones. Swanson, a contractor, is unable to build homes and pole barns like he once could.
But he said he's thankful.
"I'm glad I've had the amputation," he said. "Before, the weight of the world was on my shoulders."
Now, he said, "I have plans to walk out of here on my prosthetic leg by Christmas."
Lon Horwedel | AnnArbor.com
He met Cutler a few weeks ago.
"I spied him watching me a few different times. I almost had the mindset I was being evaluated," Swanson said. "I wanted to talk to him though."
In their first conversation, Cutler encouraged Swanson.
"He told me he could tell right away I had the drive and the initiative to get where I wanted to be."
That conversation meant a lot, Swanson said.
Now, Swanson said, "Whatever comes along, whatever you throw at me, I'm going to master it. I'm going to get over it."
Swanson knows he won't be able to fix a roof anytime soon, but he said he wants to get back to work.
Hill, of Ypsilanti, had his leg amputated recently following complications with type 2 diabetes. He had developed neuropathy, he said, a foot complication in which nerve damage lessons a person's ability to feel pain, heat or cold. The condition keeps diabetics like Hill from noticing foot injuries or ulcers before a bad infection occurs. That's what happened to him. He practiced leg lifts at a physical therapy session Wednesday.
His main worry isn't the amputation itself, he said. It's about how his family and friends will view him now.
Those fears are common, Westbury said.
"You've lost a part of yourself, your identity," she said " Amputees worry — how are they going to be the man that they were? How are they going to be viewed by others? It's emotional. "
Hill said Cutler helped him cope with those emotions. He's still a little sad and worried, but said Cutler helped him realize he'll get beyond that.
Like Cutler, Hill and Swanson will eventually be fitted for a prosthetic leg and learn to walk on it using the physical therapy services at the Ann Arbor VA.
After he picked up a new wheelchair Wednesday, Cutler headed to Brighton to see Buddy Hellner, whose practice fits and makes prostheses out of light, high-tech materials — graphite, silicone, titanium, and carbon fiber, to name a few. Amputees like Cutler will typically need a new limb every three years, Hellner said.
But Cutler's on his sixth in five years.
"I've worn out all of them," Cutler said.
Hellner's work and care means everything to him, he said.
Fitting and creating a prosthetic leg is a process that can involve creating a number of practice models followed by fittings and fine adjustments, Hellner said. Then the patient has to learn how to walk with it.
When Cutler received his first prosthetic leg, he got choked up.
"I put it on and I started to cry," he said. "And I knew right then and there, nothing was going to stop me."
Juliana Keeping is a health and environment reporter for AnnArbor.com. Reach her at julianakeeping@annarbor.com or 734-623-2528.