Posted on
Mon, May 7, 2012 : 8:26 p.m.
Violin Monster's howl offends some in downtown Ann Arbor
By Cindy Heflin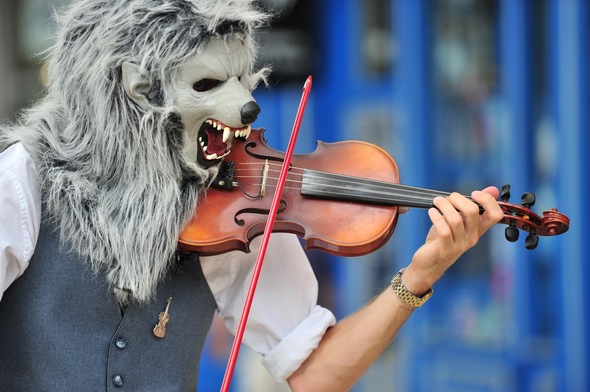 Ryan J. Stanton | AnnArbor.com
Werewolves are known for howling at the moon, but it seems not everyone in downtown Ann Arbor enjoys listening to them.
At least that was Zachary Storey's experience last weekend. Storey, aka the Violin Monster, plays violin for tips on the streets of Ann Arbor wearing a werewolf mask. This year, he's added howling to his act, and some people don't appreciate it.
On both Friday night and Saturday (when the moon was not only full but especially large), Ann Arbor police told him someone had complained about his performance at the corner of Liberty and Main streets, one of his favorite spots, and asked him to move along. Storey complied, but said the incident cut into his earnings for the weekend, and he hopes to be back in that location in the near future.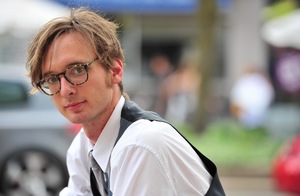 "I make most of my money on Friday and Saturday," Storey said. "So Saturday it kind of interrupted the prime playing time for me, but the big issue for me is continuing to be able to play there. … For a lot of reasons that particular corner is the best for me to play at."
Cherry Republic store manager Keri Hardy said Storey was rude to an employee of her store who asked him to stop playing for a while or move to another location while a dance group invited by the Main Street Area Association was performing Friday night for the Midnight Madness event downtown.
"He kept playing and howling during their entire performance," Hardy said.
Hardy said the store has generally welcomed and supported Storey and his music, but she was upset by the Friday incident and said the howling is a bit much. "It sounds like 'Werewolves of London' outside my store."
Storey said he didn't think he needed to move because the request didn't come from the performers. "If someone from the performance group had come to talk to me I would have been more than willing." He also denied he was rude to the Cherry Republic employee, and he believes the complaint that brought the police came from someone else.
Elaine Selo, owner of Selo/Shevel Gallery, across Liberty Street from Cherry Republic, said she's had no problems with Storey and his act. "I like it. I think it's great. I think he's a pretty good musician, and I think it's fun." She also noted that the door to her business is always closed, unlike Cherry Republic's.
Storey, 27, howls to acknowledge tips he receives while playing. He used to thank everyone who gave him money and bow. But howling seems to work better. Storey, who performed in several cities in the South this winter, added the howling to his act while playing in New Orleans. "It just came to me, and since I started it, it's just worked out really well for me. … It always gets another laugh. … People seem to love it."
Well, most people anyway. Storey acknowledged that police who talked to him on Friday night and Saturday said it was the howling that led to the complaints.
Storey said he's trying to find out more about what he's allowed and not allowed to do as a street musician by researching city ordinances and talking to the police. He's also planning to talk to the businesses in the area to get their opinion of his presence.
"If I find that I'm not violating anything I'll continue to play," he said.
Ann Arbor city ordinances don't address the issue of street musicians directly, said Senior Assistant City Attorney Kristen Larcom. "Nothing prohibits that activity, but that does not mean it can be done at any place and at any time," she said.
Storey, who started playing full time for money on Ann Arbor streets last summer, said he doesn't want to be a bother to anyone. "I don't have the impression that I am. If it was the case that all of the surrounding businesses hated that I was out there, I'd have to maybe rethink."
You can watch a short video of Storey playing and howling in New Orleans below: