Posted on
Sun, Oct 10, 2010 : 9:03 p.m.
Virg Bernero and Rick Snyder trade blows in first and only Michigan gubernatorial debate
By Ryan J. Stanton
Ryan J. Stanton | AnnArbor.com
With three weeks to go before the Nov. 2 election, Virg Bernero and Rick Snyder participated in their first side-by-side interview tonight for the job of Michigan governor.
Bernero, the Democratic mayor of Lansing, came out with guns blazing and attacked Snyder for outsourcing jobs at Gateway Computers, painting a picture of the Republican businessman from Ann Arbor as an out-of-touch millionaire who looks out for himself first.
Snyder, aside from a few feisty comebacks to Bernero's characterizations of his record, remained soft-spoken and stuck to a message of creating jobs and reinventing Michigan.
"We don't have a lot in common in terms of how we approach things," Snyder said at one point in the debate, comparing himself to Bernero. "I'm a positive person."
Snyder said he had to give Bernero credit, though.
"I mean, he's a great talker — in terms of he gets several points in for every one I have a chance to respond to because of speed," he said. "That doesn't mean there's substance there."
Mandi Wright | Associated Press
Neither candidate deviated much from his usual method of delivery during the hour-long debate inside Detroit Public Television Studios in Wixom, though Snyder did come across as more spontaneous than usual. If there was a script, Bernero forced it out of Snyder on multiple occasions by putting him on the defensive.
The biggest surprise of the night came in Bernero's opening statements when he shared what he described as "some disturbing news" that another of Snyder's companies has created jobs in China. Bernero said Snyder is the founder and board director of San Jose, Calif.-based Discera Inc., a tech company that recently set up an office in China.
"Here's what Mr. Snyder's chief technology officer told the press: 'Discera is helping Chinese businesses compete and win in the global marketplace,'" Bernero said. "Helping Chinese businesses to compete and win? Yet you want to be our governor? What about Michigan workers? What about the 630,000 Michiganders looking for work? Mr. Snyder, how could you?"
Snyder dismissed Bernero's allegations about Discera.
"Discera does not have an operation in China," Snyder said. "They're based in San Jose, Calif., and they're based in Ann Arbor, Mich."
Midway through the debate, Snyder's campaign released a statement from Discera CEO Bruce Diamond acknowledging that Discera set up a five-person office in China in July, but Diamond said the office would eventually lead to the creation of more jobs in the U.S.
Bernero attempted to portray himself as the real job creator in the race, noting that the Lansing region has the second lowest unemployment rate in the state.
"We've laid out the red carpet, instead of the red tape, for business and that's working," he said. "We've secured half-a-billion dollars in new investment in my city — 6,000 new jobs. But while I'm busy creating thousands of new jobs here, unfortunately my opponent has shipped thousands of jobs overseas to China in his role as chief executive outsourcer at Gateway."
Snyder differed with Bernero on how to create jobs.
"You don't do it by being in government," he said, adding it's the work of government to create an environment where jobs can flourish. "It is hard work to create a job, and let's get our government out of the way. We have a 'closed for business' sign up in Michigan right now."
The debate was broadcast live on public television and many commercial stations across the state. An archived webcast is expected to be accessible online at www.mivote.org and www.thecenterformichigan.net through Election Day.
As he has said on the campaign trail, Snyder repeated his line that the creation of the Michigan Business Tax was "just like Lansing went to the video store and rented 'Dumb and Dumber.'"
Bernero spun Snyder's words back at him, saying it's funny that Snyder wants to talk about "Dumb and Dumber," because he actually hired one of them.
"One of the guys who authored the Michigan Business Tax that he wants to eliminate is actually Brian Calley, his lieutenant governor," he said. "So I guess if you don't want Dumb and Dumber, you better not vote for the Republican ticket."
Bernero went out of his way at multiple points to portray Snyder as rich. He said he liked Snyder's "Nerd Mobile," but he personally can't afford one.
In response to a question about whether he would forgo his salary as governor, Bernero said that was "hilarious" — "I'm not a multimillionaire like my opponent."
"I'm sure that I will cut my pay," he said. "As I said, I'll sacrifice along with the other state workers, but I can't simply reach into my pockets from years of corporate gains and stock shares that I've cashed in on. So, no, I'll need a salary to support myself and my family."
Snyder avoided the question, saying he didn't want to come across as "pandering" by making any promises, but he said he would make some sacrifices.
Tonight's debate is likely the only one that will happen between now and Nov. 2. Bernero has pushed for more debates, but Snyder indicated tonight he's not interested.
The debate was seen as a significant opportunity for Bernero, who has been trailing Snyder by about 20 points in most polls. It remains to be seen whether Bernero will gain any ground after tonight. At least one analyst said he believes it was a draw.
"I scored (Snyder) higher than Bernero in terms of self-confidence and vision for the future — this whole idea of reinvention and the new era," said Craig Ruff, a lecturer at the University of Michigan's Ford School of Public Policy and senior policy fellow at Lansing-based Public Sector Consultants. "On the other hand, I thought Bernero did a very good job of exuding empathy for people who, because they have had their properties repossessed or because they're out of work, they want somebody in Lansing to carry their weight for them."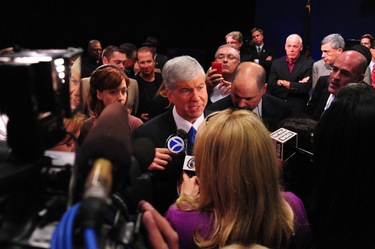 Ryan J. Stanton | AnnArbor.com
The fact that it was a draw, Ruff said, likely benefits Bernero more.
"Nobody made a major mistake," he said. "And yet, because it's a draw, I normally give — and I do tonight — the benefit of the doubt to the challenger, the underdog, that Bernero probably did better for himself than Snyder did."
Snyder said in an e-mail to supporters before the debate started that the election is about a choice between "a proven job creator" and "a self-proclaimed career politician who embodies the same old partisan politics that have held us back for so long." He stayed on that message tonight, while also hammering on his 10-point plan to reinvent Michigan.
Bernero hasn't talked much during the campaign about his nearly two decades of experience in government as a county commissioner, state senator, state representative and now mayor of Lansing for the last five years. He stayed away from coming across as a career politician again during tonight's debate, other than talking about his record in Lansing.
Bernero said he's getting results in Lansing, where he has balanced the budget every year without raising taxes and has brought jobs to the city. He said he can apply the same principles to state government and balance Michigan's budget without gimmicks.
Bernero and Snyder made clear tonight they have fundamental differences on the state's use of tax incentives to attract companies to Michigan.
"My opponent has taken kind of a philosophical approach saying we should do away with tax incentives. I disagree," Bernero said. "I think that would be unilateral disarmament."
Snyder called it a math problem. He said "massive incentives" wouldn't be needed if the state didn't have a broken tax and regulatory system.
"You don't create jobs by buying people into our state and giving huge checks out to people," he said. "You create jobs by having free enterprise work. And you have free enterprise work by having the most level competitive playing field."
As far as the state's film incentives, Bernero said he'd hate to pull the rug out from under the program right now. Snyder has taken a stance against the incentives.
Both candidates were asked where they stand on abortion, gay marriage and affirmative action. Bernero said Michigan is stuck with state constitutional provisions on affirmative action and gay marriage, but he's "100 percent pro-choice" and supports civil unions and diversity.
"I personally don't have any problem with gay marriage," he said. "If somebody wants to spend their life with one person, I think that's a good thing and I don't know why government would want to step in the way of that, so I think we should look at domestic partnerships and civil unions that can be done without broaching that constitutional … restriction that's there."
Snyder said he's pro-life except in cases of rape, incest or when the mother's life is in danger. He used the abortion question to talk about his preferred subject: jobs.
"If you're pro-life or pro-choice, one of the best answers we can get is to create jobs because that helps abortions go down overall," he said.
On gay marriage, Snyder said he believes marriage is between a man and a woman, "but people should also have the ability to make contracts between themselves." On the topic of affirmative action, Snyder said, "I don't believe in quotas."
The debate was sponsored by The 2010 Great Debates Sponsoring Coalition, which is comprised of more than 20 business, labor and nonprofit organizations, in collaboration with the Ann Arbor-based Center For Michigan and Detroit Public Television.
Moderators for the debate were Detroit Free Press Editorial Page Editor Stephen Henderson and Detroit News Editorial Page Editor Nolan Finley.
Ryan J. Stanton covers government and politics for AnnArbor.com. Reach him at ryanstanton@annarbor.com or 734-623-2529.