Posted on
Thu, Sep 16, 2010 : 5:21 p.m.
New Virg Bernero ad says Rick Snyder made $14 million as Gateway outsourced jobs
By Ryan J. Stanton
When the going got tough, Virg Bernero and Rick Snyder each reacted differently as leaders of their respective organizations, says a new television ad released today.
Bernero's ad, titled "Tough," examines Bernero's record as mayor of Lansing and Snyder's record as a leader of Gateway Computers.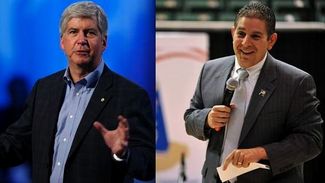 "Michigan's in tough times, so who will fight for us?" the ad starts out, giving a nod to Bernero. "As mayor, he held Lansing accountable, cut government 18 percent, without raising taxes, and no layoffs. And it started with him. Bernero cut his own pay, car and health insurance first."
The ad then looks at what happened when Gateway hit tough times.
"Rick Snyder cut workers, and outsourced jobs to fatten the bottom line," the ad says. "All along the way, he pocketed millions. Rick Snyder? He's just business as usual."
The ad flashes "$14 million" across the screen when mentioning that Snyder pocketed millions. A similar ad released last week said the Republican businessman sold stock options and made $14 million as the company sent jobs overseas and then sold to the Taiwanese.
Snyder has defended himself against the attacks on his Gateway record and accused the Democrats of "making stuff up." He told the Detroit News the Democrats are wrong to focus on stock options he exercised in 2000 before the value of Gateway shares fell.
"I actually had a pattern of selling that was fairly consistent over a number of years, to diversify from a good financial planning perspective," Snyder told the newspaper.
A 30-second ad put out by the Republican Governors Association last week praised Snyder for creating jobs at Gateway and said he could apply the same skills as governor of Michigan.
Snyder, an Ann Arbor businessman, maintains he helped grow Gateway from a few hundred to more than 10,000 U.S. employees when he was a top executive from 1991 to 1997.
He also says he opposed but couldn't stop the shifting of jobs overseas when he served on the Gateway board of directors from 2001 to 2005, and he helped bring jobs back to the United States during a stint as interim CEO in 2006 and 2007.
Bernero's new ad will air statewide throughout the next week or more. Bernero is still trying to get Snyder to debate him in public and answer questions about his Gateway record.
Snyder's campaign has released a timeline to explain Snyder's involvement with Gateway as the company went downhill. Click here to download it.
Ryan J. Stanton covers government and politics for AnnArbor.com. Reach him at ryanstanton@annarbor.com or 734-623-2529.