Posted on
Fri, Sep 6, 2013 : 10:55 a.m.
Volunteers needed for community causes including hospice and Fuller Park Pool cleanup
By AnnArbor.com Staff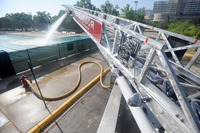 Angela J. Cesere | AnnArbor.com
From a training session for hospice volunteers to a call for volunteers to cleanup Fuller Park pool, here's a roundup of some of the stories posted on AnnArbor.com's Community Wall this week:
By: A2Parks: Volunteer at Fuller Park Pool's Fall Clean Up this Sunday
Sunday, Sept. 8Join us from 2-4:30 p.m. as part of the City of Ann Arbor's Parks & Recreation Give 365 Program for Fuller Park Pool's Fall Clean Up — Fuller Park, 1519 Fuller Road. Join us as we close the pool for the season and ready the grounds for the winter.
By: jboan: Hospice Volunteers Needed!
Join us on Saturday, September 14 from 9 a.m. - 5 p.m. for new volunteer orientation on the St.Joseph Mercy Ann Arbor campus! Hospice is looking for caring and compassionate people to join our team and assist patients and their families during end of life.
By: Chris Pentago: Nissan To Build Self-driving Cars?

By: Marla Booth: Stubb's Fall Tailgate at Busch's-Main Street Store

By: KidneyMI: National Kidney Foundation of Michigan hosts Ann Arbor Brighton Kidney Walk to Help Fight Kidney Disease

By: Silver Butterfly: Bolcom and Morris to be Featured at Mu Phi Epsilon 100th-Anniversary Gala

By: Andrew Thomas: School Board Trustee Andy Thomas to Hold Coffee Hour Sept. 17
By: Dawn Farm Education Series: Great time, great cause: Dawn Farm Jamboree!

By: Susan Garavaglia: Safe Kids Reminds Parents/Caregivers - Never Leave a Child Alone in a Vehicle and

2nd Heat Stroke Child Fatality in Michigan Prompts Urgent Reminder from Safe Kids Huron Valley for Parents/Caregivers


AnnArbor.com's Community Wall is a spot for local people to post local stories, news and announcements. To post a story, sign in to AnnArbor.com, then go to www.annarbor.com/community and use the Got News? Tell Us function at the top to submit your news. If you have a photo to add, e-mail it to us at community@annarbor.com, and we'll insert it into your story.