Posted on
Tue, Aug 6, 2013 : 12:39 p.m.
Voters take to the polls in Ann Arbor, Ypsilanti Township for primary election
By Amy Biolchini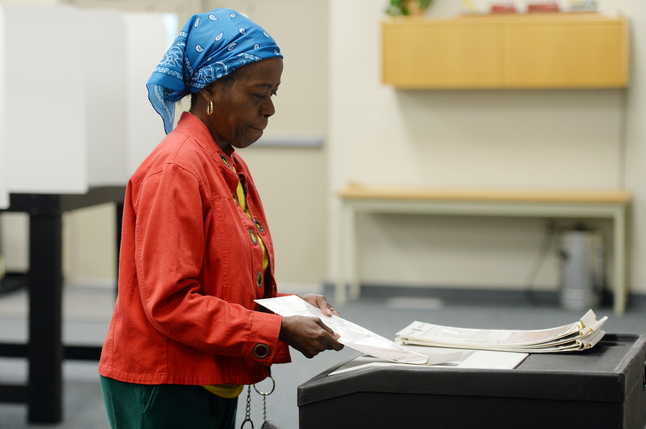 Melanie Maxwell | AnnArbor.com
Washtenaw County voters cast their ballots on several key races and ballot issues in Ann Arbor, Ypsilanti Township and Whitmore Lake in Tuesday's primary election.
Voter turnout was slow Tuesday morning. Polls opened at 7 a.m. and will close at 8 p.m.
Voters in the 3rd and 4th wards in Ann Arbor will decide the primary race between Democratic candidates for seats on the Ann Arbor City Council, where two incumbents will be defending their spots.
In Ypsilanti Township, voters are being asked to approve three tax increases and a renewal of a millage for roadwork. Initial responses from voters in the township indicate that there may be significant support for the millage increases.
Whitmore Lake Public Schools District is asking its taxpayers in Washtenaw and Livingston counties to approve a $12.3 million bond issue that would be used to remodel and update school facilities and technology, purchase school buses and to construct athletic buildings and playing fields. The estimated tax rate to pay back the general obligation, unlimited tax bond in the first year is 2.5 mills.
Ann Arbor's 3rd Ward
In the 3rd Ward, incumbent Council member Stephen Kunselman is defending his three terms against challenger Julie Grand, the chairwoman of the city's Parks Advisory Commission.
Low voter turnout has marked many previous city council elections.
At Tappan Middle School — precinct 3 in the 3rd Ward — 79 of 2,573 registered voters had cast their ballots by 9:45 a.m.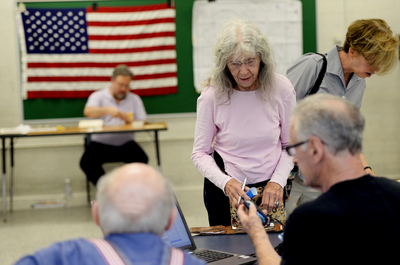 Melanie Maxwell | AnnArbor.com
Voters Tuesday morning were more willing to state they voted for Kunselman than Grand.
Betty Bishop said she voted for Kunselman because she likes his experience and ability to do his job well as a council member. Bishop said she wanted to make sure she has a say in the city's direction, as the council determines the level of city services that she receives as a resident.
Monica Liebert said she also voted for Kunselman.
"Grand is a mayor's rubber stamp," Liebert said, explaining that she was sick of the development downtown and liked Kunselman's approach to the issue.
Anita Baker-Blocker said Kunselman received her vote Tuesday.
"Kunselman is a man of the people and has ordinary Ann Arborite's interests at heart," Baker-Blocker said.
Several voters at Tappan Middle School said they voted for Grand but declined to provide their names on the record to AnnArbor.com when asked.
Two of Grand's campaign staff members were handing out literature to voters at Tappan and were standing within the 100-foot legal limit Tuesday morning before city attorney and election commissioner Stephen Postema arrived about 9:30 a.m.
Postema had the campaign staff move back to the 100-foot boundary. There were no Kunselman campaign staff members present at the time.
At precincts 4 and 7 of the 3rd Ward at Allen School, a total of 99 of 3,984 registered voters in the precinct had cast their ballots as of 10:10 a.m. The 3rd Ward encompasses much of the south side of Ann Arbor.
Ann Arbor's 4th Ward
In the 4th Ward race, incumbent Council member Marcia Higgins is defending her seat against challenger Jack Eaton. Higgins has served 14 years on city council.
Eaton is a labor attorney based out of Southfield who has lived in the 4th Ward since 1998.
Voter turnout was slow at Pioneer High School, which serves as a polling place for both precincts 4 and 8 in the 4th Ward: 64 of 5,158 registered voters had cast their ballots as of 10:30 a.m. Tuesday.
Nearby at Dicken Elementary — the polling place for precinct 7 in the 4th Ward — voter traffic was slightly heavier: 115 of 1,983 registered voters had voted as of 11 a.m.
Among the voters at Dicken was Lisa Murray, who said she voted for Higgins.
"I think she's been doing a good job," Murray said, noting that she felt it was important to vote in the primary election because it was her duty to participate in government.
Candy Hiller said she voted for Jack Eaton because he serves as a good opposition voice to the majority on city council.
Marilyn Tower voiced a similar sentiment as she explained why she voted for Eaton.
"It's time for a change," Tower said.
Eaton's position on public safety issues was what won Tower's vote, she said.
Ypsilanti Township ballot issues
Ypsilanti Township voters are being asked to approve three tax increases and to renew a millage for road improvements. The tax increases will be used for fire protection, police protection and for garbage, recycling and compost collection, as well as water quality and environmental protection.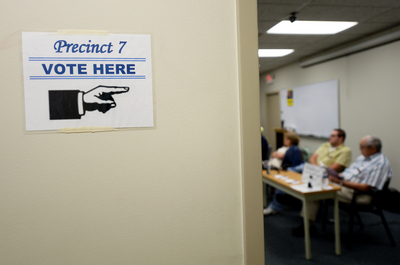 Melanie Maxwell | AnnArbor.com
The tax rate increases would mean a homeowner with a house with a taxable value of $100,000 would be paying an additional $175 per year if all three are approved.
Most voters surveyed in Ypsilanti Township Tuesday morning by AnnArbor.com said they supported the tax increases, though voter turnout was fairly slow.
There are 40,109 registered voters in Ypsilanti Township, which is divided into 13 voter precincts.
About seven of 2,684 registered voters cast ballots in the first hour and a half that polls were open Tuesday at Precinct 1 at the Free Methodist Church, 1800 Packard Road.
By 9 a.m., 19 of 3,480 registered individuals had voted at precincts 2 and 3 at Polo Fields, at 2955 Packard Road. Among the voters there was Mary Miller of Ypsilanti Township, who said she voted for the three tax increases and the one tax renewal.
"I think if people want services they need to be willing to pay for them," Mary Miller said. "Townships and cities have lost so much revenue from foreclosures and everything. Somehow things need to be paid for and it's not like national money will drop from the sky. We have to pay for it and also these are services that we rely on and a lot of times people have come to expect them."
Bryan Miller of Ypsilanti Township voiced a similar sentiment to Mary Miller, though there is no relation between the two individuals.
"I voted yes for all four," Bryan Miller said. "I want to see our community stay clean and safe. I hope this increase will allow the township to do that. I believe in sharing the responsibility."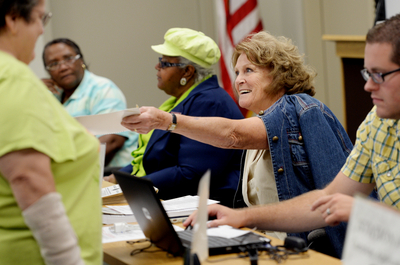 Melanie Maxwell | AnnArbor.com
Debbie Wilbanks
of Ypsilanti Township said she voted for all four ballot proposals as well Tuesday morning. As a retired teacher who had a 38-year career at Estabrook Elementary School, Wilbanks said she thinks the tax increases are necessary to keep the township a safe place in the future.
"…We need to do what's best for our kids and the future of Ypsilanti so that it can continue to grow and be a safe place to live," Wilbanks said. "More police protection, more fire services. …Ypsilanti is a great town and it doesn't always get that good reputation. Having been a teacher in Ypsilanti for years, I know what a wonderful place it is and we just have to keep it that way."
Steve Sicinski of Ypsilanti Township said he voted against the tax increases and road millage renewal.
"I'm tired of paying taxes. The taxes in Michigan just keep going up and up and up. Our payroll doesn't and we've got to the point where people just don't have any more money," Sicinski said. "(The township) needs to fund this some other way, other than through property owners because we're out."
Ypsilanti Township officials have argued for the necessity of the three tax increases by citing the decreased revenue from declining property tax values in the township.
Sicinski was one of 18 voters that cast their ballots by 9:30 a.m. Tuesday at the Victorious Life Church at 860 E. Clark Road in Precinct 4. There are 2,733 registered voters in the precinct.
Check AnnArbor.com Tuesday night for election results as they are released.
Intern reporter Chelsea Hoedl contributed to this report.
Amy Biolchini covers Washtenaw County, health and environmental issues for AnnArbor.com. Reach her at (734) 623-2552, amybiolchini@annarbor.com or on Twitter.