VSA gallery showcases artwork of local students with disabilities
Posted on Wed, May 25, 2011 : 12:30 p.m.
Editor's note: This story was updated to correct the name of VSA Michigan.
Twenty-two students with special needs in Washtenaw County were chosen recently to show their artwork at a new gallery at the Washtenaw Intermediate School District.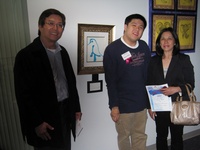 Photo courtesy of Kathy Christensen
Called the VSA Gallery, the program is a joint effort by the WISD and VSA Michigan, a statewide organization on arts and disability.
Kathy Christensen, VSA art gallery chairperson and WISD orientation and mobility specialist and teacher consultant, said art gives students with communication barriers a chance to express themselves.
"Artwork can communicate sometimes better than the students can," Christensen said. "It is just creative expression."
VSA aims to encourage creativity in people with disabilities by creating a community where they can participate, learn and enjoy the arts.
The VSA gallery consists of 28 pieces of artwork. Students and their families attended an open house for the gallery May 19.
"It was really nice because the parents were really happy that their students were being highlighted," Christensen said.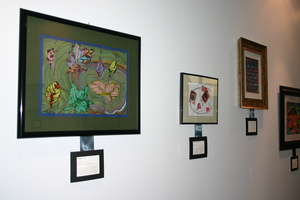 The gallery includes works of textiles, oils, watercolors and acrylic paint. There is also a plaster mask, and a video montage of
Disney
clips that was played throughout the evening. The gallery also has 3-dimensional
koinobori
, which are Japanese windsocks, often shaped like carp.
Christensen said the VSA gallery provides a venue to celebrate and highlight the artistic abilities of students with special needs in Washtenaw County.
A committee of eight people came together to put the gallery together. They created small biographies about each student and placed them next to their artwork. The biographies talked about each child's talents and interests. The artwork will remain in the gallery for three years and then be returned to the families.
For students that often get overlooked, this gallery gave them all a chance to shine, Christensen said.
"I think a lot of these students can really shine and express themselves really well through art," Christensen said. "I have a lot of parents tell me that the students spend a lot of time creating artwork at home."
A slideshow of the VSA gallery artwork at WISD is available on Flickr.