Posted on
Wed, Oct 5, 2011 : 6:03 p.m.
Wall Street protests coming to University of Michigan's Diag
By AnnArbor.com Staff
As crowds of union members, college students and others are adding their voices to the demonstrators who've been camped out near Wall Street in New York, local residents are planning an assembly Thursday in Ann Arbor to show their support.
Occupy Ann Arbor will hold its first general assembly meeting at 6 p.m. Thursday at the University of Michigan Diag. According to the group's Facebook page, the assembly is meant to organize local resources, spread information and show support for Occupy Wall Street and other Occupy groups in Michigan.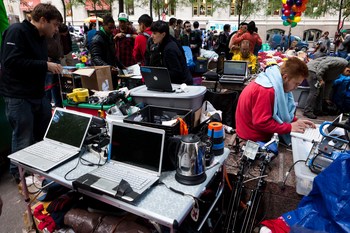 AP Photo | John Minchillo
The Occupy Wall Street protest started Sept. 17. The protesters have varied causes but have reserved most of their criticism for Wall Street. They've spoken out about unemployment and economic inequality, saying "we are the 99 percent" — in contrast to the wealthiest 1 percent of Americans.
As of Wednesday evening, 177 Facebook users said they were attending the Ann Arbor event.
Other Occupy events are in various stages of planning throughout the state, including in Grand Rapids, Flint, Monroe, Lansing and Detroit, the Grand Rapids Press reported.
The protesters in New York's Financial District have spent most of their time in the Zuccotti Park, sleeping on air mattresses, holding assemblies to discuss their goals and listening to speakers including filmmaker Michael Moore and Princeton University professor Cornel West, The Associated Press reported.
On the past two Saturdays, though, they marched to other parts of the city, which led to tense standoffs with police. On Sept. 24, about 100 people were arrested and the group put out video which showed some women being hit with pepper spray by a police official. On Oct. 1, more than 700 people were arrested as the group attempted to cross the Brooklyn Bridge.
For more information on Occupy Ann Arbor, see the group's post on AnnArbor.com's Community Wall.
The Associated Press contributed to this report.