Posted on
Mon, Nov 7, 2011 : 2:37 p.m.
Want to buy a piece of City Place houses? Materials Unlimited selling salvaged items
By Ryan J. Stanton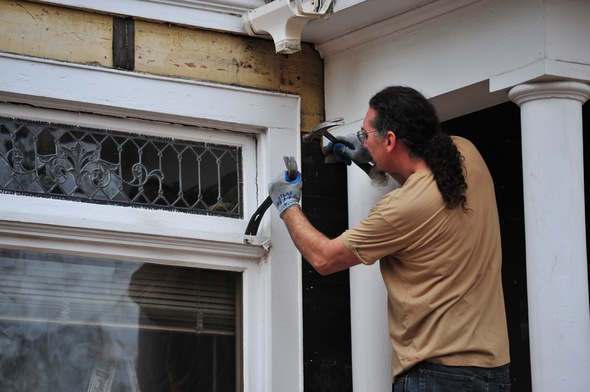 Ryan J. Stanton | AnnArbor.com
It's been debated over the past few years whether the seven century-old houses that stand in the way of the
City Place student apartments
project are
worth salvaging
.
Apparently at least pieces of them are.
Crews from Ypsilanti-based Materials Unlimited are on site today in Ann Arbor, beginning the process of gutting the seven houses piece by piece.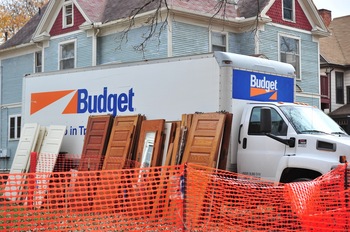 Ryan J. Stanton | AnnArbor.com
They've spent the last several hours slowly chiseling away at the houses with crowbars and hammers, carefully salvaging doors, cabinets, windows, and other items of value that the company plans to resell as reclaimed material.
A worker who spoke with AnnArbor.com said the pieces of the South Fifth Avenue houses might work well for someone looking to do historic renovations to another house.
Or they might make a good keepsake for anyone who wants to hold onto a piece of the houses, which have been at the center of a heated debate over the preservation of the Germantown neighborhood for the last few years.
Materials Unlimited maintains a 15,000-square-foot store at 2 W. Michigan Ave. in downtown Ypsilanti. It prides itself on selling "fine antiques and architectural elements."
The reclamation work is being done in advance of approval of demolition permits that developer Jeff Helminski hopes to receive from the city this week.
As of earlier today, crews on location at the City Place site also had ripped the siding off the house at 407 S. Fifth Ave. and had begun taking apart the porch.
Wendy Rampson, the city's planning manager, said the demolition permits for the houses at 407, 411, 415, 419, 427, 433 and 437 S. Fifth Ave. are under review for compliance with the city's demolition requirements.
She said the work currently under way at the City Place site includes abatement activities at 407 S. Fifth Ave. — specifically removal of "transite" siding — and salvage activities.
Investigation of salvage options is required as part of the demolition permit process. Rampson said salvage does not affect the structural integrity of the building and therefore does not require a permit in advance of a demolition permit.
Once all seven houses are demolished, the developer plans to construct a series of six-bedroom student apartments in two buildings separated by a 36-space parking lot.
Crews from Michigan Pipe & Valve are on location today continuing the installation of new underground water and sewer pipes along Fifth Avenue, just south of William Street.
Ryan J. Stanton covers government and politics for AnnArbor.com. Reach him at ryanstanton@annarbor.com or 734-623-2529. You also can follow him on Twitter or subscribe to AnnArbor.com's e-mail newsletters.