Posted on
Sun, Nov 27, 2011 : 1:15 p.m.
Warm the Children founder saw a need and created a legacy
By Ann Dwyer
When former newspaper publisher Mack Stewart saw a kid waiting for the school bus on a cold day in Torrington, Conn., wearing a sweatshirt and sneakers in the snow, he knew he had to do something.
"This is really wrong," he said to himself.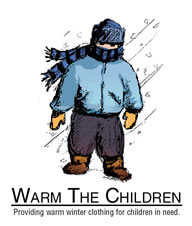 Stewart had previous experience with a charity that provided clothing for children. Taking that premise, he created Warm the Children in Middletown, Conn., in 1991. That first year, Mack and the Middletown Press helped 250 families.
But at 60 years old, Stewart suddenly found himself without a job. Because he and his wife's economic needs were low, Stewart decided that rather than find a new job, he would take Warm the Children to the rest of the nation.
Now 30 newspapers throughout the country have their own Warm the Children campaigns, four of which are in Michigan alone.
In Ann Arbor, we are hoping to help 3,000 kids this year. If other newspapers reach even 1,000 kids, that's 30,000 children who will not have to suffer through the season.
Stewart knows just how important Warm the Children is to the families it serves. He and his wife are volunteer shoppers.
One year, Stewart got a call from a school social worker regarding a family that included four young boys. Between the four of them, they had only one coat. On a particularly cold day, a teacher noticed that one of the boys didn't go outside to play with his friends at recess. The teacher asked him why.
"It's Monday, Thursday is my day to get the coat," the boy responded.
Warm the Children responded quickly and assigned a shopper to the family.
"Stories like that, that's my paycheck," Stewart said.
On one shopping experience, Stewart personally assisted a family who had moved to Connecticut from Haiti. They were not prepared for winter, much less what Stewart described as one of the worst winters he had ever experienced in Connecticut.
The family had nothing more than a few cotton T-shirts to protect them from the cold. Additionally, the mother's knowledge of the English language did not go beyond, "Are you Mr. Mack?"
But Stewart got the family the clothes necessary to brave the extreme temperatures.
Stewart explains that Warm the Children is successful because it is simple.
"There are no government funds involved ... We are all volunteers, no one is on a payroll," he said.
"A lot of people like the idea that every penny is used for its intended purpose."
AnnArbor.com and its fiscal partners, United Bank and Trust, cover all overhead costs. We also work with the Ann Area Arbor Community Foundation to provide fiscal oversight as our nonprofit partner.
"In terms of community service, Warm the Children is solid gold," Stewart said.
There are many other easy ways to give. You can do so online by visiting annarbor.com/warmthechildren. There, you can also find information on becoming a volunteer shopper. Shoppers handle the vouchers and assist families in shopping, ensuring that parents make wise purchasing decisions.
You also can make a donation in person by visiting any United Bank & Trust branch in Washtenaw County, or you can mail a donation to Warm the Children, c/o United Bank & Trust, PO Box 1127, Ann Arbor, MI 48106-1127.
Throughout the year you can also visit our Community Space at 301 E. Liberty St. in downtown Ann Arbor and make a donation when you get a cup of coffee. The coffee is donated by local brewers, and all proceeds go to Warm the Children. This season, Mountain Country Coffee (www.facebook.com/mountaincountrycoffee) has donated all of the coffee for the 2011 Warm the Children campaign season.