Posted on
Sun, Nov 13, 2011 : 10:33 a.m.
Warm the Children volunteer shopper meets hard-working, grateful families
By Ann Dwyer
Ask any Warm the Children shopper about the families that your donations assist, and they'll tell you that they are -- above all -- grateful.
When Elizabeth Wood calls families to arrange appointments, she says they are "so excited, you'd think they won some huge prize."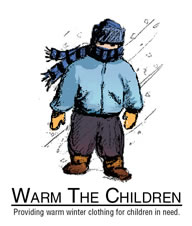 Wood has been a member of the Hamburg Kiwanis for 16 years. She has volunteered with Warm the Children since the charity was started by the Ann Arbor News in 1997.
Volunteer shoppers handle the vouchers and assist families in shopping, ensuring that parents make wise purchasing decisions.
Because she works in Washtenaw County, Wood sets up appointments for the shopping trips after she is done for the day. She often sets up multiple appointments for the same day.
This year, Wood volunteered to help more than 30 families. She says she is already almost finished and ready to take on more.
Wood's experience has allowed her to see a diverse segment of the community. She is nothing but complimentary about all of them.
"They are really hard working. They do whatever they can for their family," Wood says.
She has met single parents and parents that have three jobs but still struggle in the flagging economy.
"A lot of people are just a couple of paychecks away" from being in their situation, she points out.
Many of the parents she has shopped with arrive early to check out the sales. They come prepared already knowing what their children need.
The kids are also very grateful for the experience.
Wood said that they take great joy in being able to pick out their own clothes with the allotted $90 voucher.
"For them to go to the store themselves, that's a pretty big deal," she said.
Wood likes to think that maybe if the parents don't have to buy clothes, that the kids may get an extra Christmas present or Thanksgiving dinner.
"This program means more than people realize … I am privileged to be involved,"
To volunteer as a shopper, you can go to annarbor.com/warmthechildren to find a volunteer shopper registration form.
Your donations are vital to keeping Warm the Children alive and keeping kids warm.
AnnArbor.com and our fiscal partner United Bank & Trust absorb all overhead costs. We also work with the Ann Area Arbor Community Foundation to provide fiscal oversight as our nonprofit partner.
There are many easy ways to give. You can do so online by visiting the same web page that is listed above for volunteer shoppers. You also can make a donation in person by visiting any United Bank & Trust branch in Washtenaw County, or you can mail a donation to Warm the Children, c/o United Bank & Trust, PO Box 1127, Ann Arbor, MI 48106-1127.
Throughout the year you can also visit our Community Space at 301 E. Liberty St. in downtown Ann Arbor and make a donation when you buy a cup of coffee. The coffee is donated by local brewers, and all proceeds go to Warm the Children. This season, Mountain Country Coffee (www.facebook.com/mountaincountrycoffee) has donated all of the coffee for the 2011 Warm the Children campaign season.