Posted on
Tue, Jan 31, 2012 : 5:57 a.m.
Washtenaw Association of School Boards forming new alliance with county superintendents
By Danielle Arndt
A new organization to better facilitate communication between school boards and superintendents is forming in Washtenaw County.
The purpose of the newly initiated Washtenaw Alliance for Education is to serve as a unified advocate for K-12 education and to provide a clear channel for discussing collaboration and shared services among the districts in the county.
The alliance will replace the Washtenaw Association of School Boards' Legislative Relations Network. The LRN currently is charged with organizing the Legislative Breakfasts with state senators and representatives, putting together agendas for the WASB and reviewing education policy coming out of Lansing, said Glenn Nelson, a WASB and Ann Arbor school board member.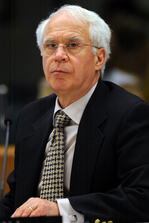 Nelson said if members of the
Washtenaw Intermediate School District
approve the alliance, the LRN likely will not be abolished but rather pushed "into hibernation."
"I think we will leave the language for it in our bylaws so if we wanted to bring it back in two years we could," he said.
Nelson said the LRN has been more passive and quiet in recent years as far as reviewing legislation and heading up the WASB's position on policy. Most districts appoint the same representative to both the WASB and the LRN.
LRN committee members will have the opportunity to serve on the alliance. Two school board members and a superintendent for each district can be appointed to the alliance, although schools may choose to have a single board member, said Larry Cobler, current president of the WASB and Dexter Community Schools.
In total, the alliance could have 11 superintendents and 22 board members. But each district would have just one vote at the table, Cobler said, so the three members would have to agree upon how the district would vote.
Once established, in order to take an organization position on legislation it would require the districts reach consensus, Cobler said.
"If it wasn't unanimous, we wouldn't take a position."
The alliance's ability to take a position on legislation should not deter individual school boards from doing the same, Nelson added. He said the state needs as much feedback from schools as possible right now.
The next step in formally launching the alliance is for each district to pass a resolution supporting it.
WISD Superintendent Scott Menzel said the greatest benefit of having school boards and superintendents together in the same room is sharing services.
The WISD would like to implement a common software system for human resources and business operations throughout the county. Being able to better collaborate with school board members on how to best combine these services likely will increase support of the effort, Menzel said.
"It will help solidify the direction we take," he added.
Menzel said having monthly conversations will help build the relationship and trust between boards and their superintendents.
"I think there will be a greater likelihood we'll all agree to participate (in shared services)," he said.
He said these joint conversations could have benefitted the consolidated busing system the WISD tried to get off the ground in 2010, where eight of 10 districts originally were on board but only three went through with it.
Staff reporter Danielle Arndt covers K-12 education for AnnArbor.com. Follow her on Twitter @DanielleArndt or email her at daniellearndt@annarbor.com.