Posted on
Fri, Oct 21, 2011 : 10:49 a.m.
Washtenaw Camp Placement Association presents award to Kiwanis; local special needs student receives iPad from nonprofit
By AnnArbor.com Staff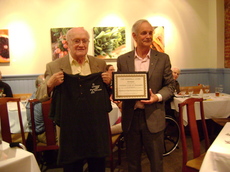 photo courtesy of WCPA
From the Ypsilanti Kiwanis Club being honored for helping send kids to summer camp to a local autistic boy getting a free iPad from a nonprofit that equips special-needs kids with technology, here's a roundup of some of the stories posted on AnnArbor.com's
Community Wall
this week:
By: Jane Talcott: Washtenaw Camp Placement Associaton Presents Awards at Annual Meeting
Sally Lamkin, co-chair of the Honors and Awards Committee, presented the Wendell Lyons Award to the Kiwanis Club of Ypsilanti. Dick Miller and Ian Wojcik-Andrews of the Ypsilanti Kiwanis Club, accepted the award for outstanding service by the club in the promotion and support of Washtenaw Camp Placement Association.
By: Linda: Nov. 4, 2011: Ypsilanti child with special needs recieves iPad2 From A4cwsn
Gary James has made it his life's mission to make sure every special needs child/adult in the world who needs an iPad gets one. He started A4cwsn about a year ago... to provide iPads to kids and adults with special needs around the world.
By: Peace Corps: Ann Arbor Resident Begins Peace Corps Service in Tanzania
By: Helen Wohlgemuth: Downtown Family Law Firm Adds New Associate
By: Go LIke the Wind Montessori: 'Montessori Madness!' Author Trevor Eissler Coming to Ann Arbor
By: Mark: Creole Du Nord at Good Night Gracies
By: Bob Krzewinski: Input & Ideas Session For Improving Walking & Bicycling In Ypsilanti
By: Southern Michigan Railroad Society: Railroad Society offers Fall Color Tours
By: Bob Nassauer: NAMI WC "Paths to Recovery" One-Day Conference on Mental Illness on Saturday November 5th
By: Internet Innovation Alliance: Wireless Broadband Can Save Michigan Families More Than $7,200
By: Sreyashi Dey: Retreat: Vedanta - A joyful presence in our lives
By: jane oxender: Hockey League Annual Fundraiser - Sat. October 22 - Arctic Coliseum in Chelsea
By: Barb: Felicia Brabec Sworn in as Washtenaw County Commissioner
Arbor.com's Community Wall is a spot for local people to post local stories, news and announcements. To post a story, sign in to AnnArbor.com, then go to www.annarbor.com/community and use the Got News? Tell Us function at the top to submit your news. If you have a photo to add, e-mail it to us at community@annarbor.com and we'll insert it into your story.