Posted on
Sat, Dec 25, 2010 : 6:02 a.m.
Washtenaw Community College extends pilot classroom lease agreement with the University of Michigan
By James Dickson
After a successful pilot run leasing classroom space from the University of Michigan in the fall, Washtenaw Community College has extended its lease through the winter semester.
The lease runs from Jan. 10 through May 2 and affords the community college the use of four classrooms and one computer lab at Mason Hall for night classes. If the arrangement continues to work for both parties, the lease could be extended further.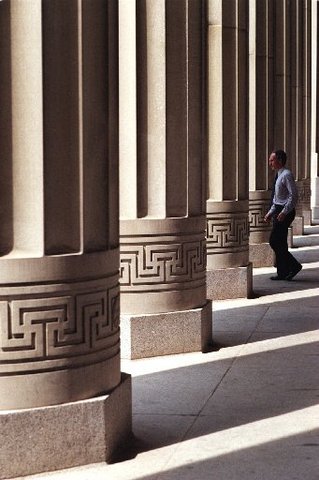 File photo
WCC will offer 11 courses at Mason Hall in the winter, ranging from basic accounting to a class on "Drugs, Society and Human Behavior." It offered nine courses at Mason Hall in the fall. There were plans for a 12th class, but Math 160, Basic Statistics, failed to enroll the necessary 12-15 students, said WCC spokeswoman Janet Hawkins.
Some 150 students from Washtenaw will be taking night classes at Mason Hall this winter, up from 92 in the fall.
The community college's move into downtown Ann Arbor came after it learned about 10 percent of its student body lives within a mile of downtown Ann Arbor, WCC President Larry Whitworth explained before the fall lease went into effect.
WCC had been seeking a downtown presence for some time. It already offered off-site courses in Dexter and Brighton, and its campus serves the Ypsilanti market well. The move to Ann Arbor was meant to offer greater convenience for students or prospective students in the most populous part of the county.
Jim Egan, dean of Washtenaw Community College, said the community college is looking to enroll 200 to 300 students for its Mason Hall classes each term. For the time being, the lease is still in the pilot phase, and it will be evaluated by both institutions over the summer.
The pilot has gone well from the university's perspective, said U-M spokesman Rick Fitzgerald.
U-M staffers, including Fitzgerald, who took an intro to statistics course, "really appreciated the proximity" of the WCC classes to the downtown area, he said.
Diana Sepac, a WCC staffer who has worked closely with the University of Michigan on the lease, agreed. She said the U-M support team has been "exceptionally professional" in every regard, going above and beyond to respond to WCC's needs.
"We're developing a very strong relationship," she said.
Financial terms of the lease were not readily available because the contract is still being finalized, Sepac said.
WCC's deadline for admission as a new or readmitting student is Jan. 3, Hawkins said. The last day to register is Jan. 6, and the winter term starts Jan. 10. The classes offered at Mason Hall this winter are:
ACC 111 - Principles of Accounting I
CIS 110 - Introduction to Computer Information Systems
COM 101 - Fundamentals of Speaking
ENG 111 - Composition I
ENG 226 - Composition II
PLS 112 - Introduction to American Government
PSY 100 - Introduction to Psychology
PSY 240 - Drugs, Society and Human Behavior
James David Dickson can be reached at JamesDickson@AnnArbor.com.