Posted on
Thu, May 16, 2013 : 5:59 a.m.
WCC president and faculty work on communication as college moves forward with strategic plan
By Kellie Woodhouse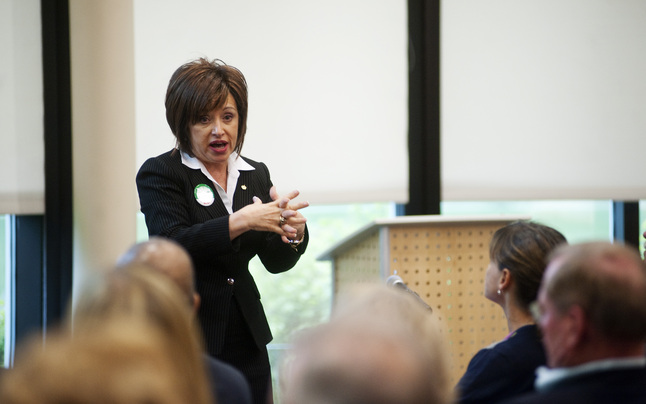 Daniel Brenner I AnnArbor.com
As Washtenaw Community College sets into motion a strategic plan intended to strengthen the college's regional profile, some faculty members are wondering how involved they'll be in decisions that will shape the school's future.
A group of faculty, including the leadership of the faculty union and several department chairs, has been at odds with WCC President Rose Bellanca in recent months, and both parties say they hope an improved relationship can lead to a positive trajectory for the college as it implements a plan that's taken more than a year to devise.
"Things are moving in a better direction," said Marvin Boluyt, co-chairman of WCC's life sciences department. "This has been the best place I've ever worked. It's a fabulous work environment surrounded by happy, optimistic, can-do people. So this winter that atmosphere was definitely affected."
A large group of WCC's roughly 190 full-time faculty members began publicly expressing frustration with Bellanca's leadership style this winter. The faculty union was unhappy with a perceived lack of communication from Bellanca and complained instructors were being shut out of major decisions. Department chairs wanted to meet with Bellanca in one large meeting, but she insisted on meeting in small groups, which vexed some faculty members.
Some were also concerned by a few of Bellanca's initiatives, including plans to offer late-starting classes and increase WCC's offerings to local high schoolers. When Bellanca went ahead with changes in these areas, faculty representatives said she made a top-down decision and expressed concern over the direction of the college. Faculty wanted more input on hires to WCC's leadership team.
Issues came to a head when Bellanca fired Stuart Blacklaw, the school's vice president of instruction, in March.
Stunned by the firing, faculty went on the offense. Roughly 100 faculty members signed a petition seeking improved communication with college administration on April 23. That came after the faculty leadership submitted a formal list of complaints in February.
"Change happens. It's not that we're really afraid of changes. It's that we're afraid of changes that might not be good ones," said Rosemary Rader, a chemistry instructor. "If we haven't been involved in the process of figuring out those changes, it's really hard to embrace them."
New efforts
Since then, Bellanca has promised to step up her level of communication.
"I've met with the department chairs as a whole, I've invited them here tonight. I try to send them updates on what's going on in the college," she said after a Board of Trustees meeting Tuesday, saying that communication with faculty is improving. "I just try my best to do whatever it takes."
Though she acknowledged as president she makes the final decision on major matters affecting the college, she said she does seek faculty input.
"At some point you say 'I don't think we're going to go left, I think we're going to go right.' I am in charge, I make the decision but I am open to input," Bellanca said in a late March interview. "Not everybody has to be involved in a decision because sometimes that would take forever and a day. But I do believe the people who are most impacted by that decision have some input."
Some faculty members say there have been small improvements. After listening to faculty concerns, she allowed the student newspaper to print a summer edition, which it originally was prohibited from doing this summer. She's begun sending email updates to faculty, and she went to the meeting with department chairs.
"She promised to improve collaboration and communication," said Carrie Krantz, chairwoman of WCC's English department. Krantz said that while such promises are positive, faculty are looking at Bellanca to follow them through.
"I haven't seen any evidence of it and I haven't seen any evidence of anything going wrong," Krantz said.
Washtenaw Community College Profile