Posted on
Wed, Nov 9, 2011 : 5:56 a.m.
Washtenaw Community College professor to discuss experience at epicenter of Egypt's revolution
By Tom Perkins
In February, Washtenaw Community College professor Elisabeth Thoburn set out on a four-month, seven-country journey through the Middle East. The first stop on her trip: Egypt, where, as she made preparations to leave, the population was suddenly in the streets demanding the resignation of longtime President Hosni Mubarak.
Thoburn could have altered her itinerary. The State Department was warning American citizens to leave, and many would have hesitated at the prospect of heading into the epicenter of a revolution in a Middle Eastern country.
But Thoburn boarded her plane for Cairo and set up in a hotel just blocks from Tahrir Square, ground zero of the revolution.
"If you are afraid, stop traveling," Thoburn said. "This was a situation where I made a calculated decision to go because I felt safe enough. In a country of millions, I have a very fine chance of being safe. On the ground, as far as how close I could get to Tahrir Square; I decided I would go and take it day by day."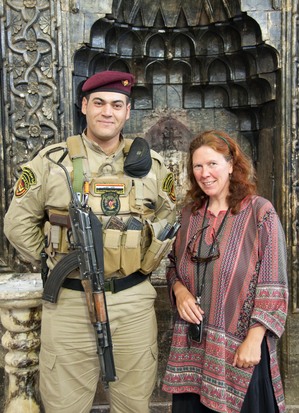 Photo Courtesy of Elisabeth Thoburn
On Wednesday, Thoburn will recount the experience in Cairo as well as her time in six other Middle Eastern countries, notably Iraq, the Palestinian Territories and Israel. The talk, entitled "Multiple Truths", will take place at Towsley Auditorium at 7 p.m. A photo exhibit in WCC's Gallery One precedes the event from 5:30 to 7 p.m.
Thoburn described witnessing the revolution as "overwhelming" and a "great privilege." She arrived in Cairo on Feb. 2, just several days after the events began unfolding. Born in East Germany and holding a German passport, Thoburn was considered German by Egyptian officials, but was otherwise American.
She is a veteran of travel during tense times. While in Lahore, Pakistan several years ago, Benzair Bhutto was assassinated and riots broke out in some parts of the country. She moved carefully, and said she took the same precautions in considering how close she would get to Tahrir Square.
For example, Friday was a day to exercise special caution because there was no telling what might happen after sermons in the mosques.
But, as she reported on her blog during the trip, Thoburn had minimal trouble moving about Cairo. She was subjected to several interrogations by Mubarak's forces and civilians patrolled the streets, but Egyptians were overwhelmingly welcoming, she said.
Thoburn stayed in Cairo for six days before traveling south. As an art historian, the revolution presented a unique advantage in that the country was virtually free of foreign tourists - she counted no more than a dozen foreigners during the two weeks spent in Egypt.
That afforded the chance to visit the Abu Simbel Temples with nearly no one else there. The temples are some of the most famous in the region, and she said she would normally have been elbow to elbow with other visitors.
"I pretty much had Egypt to myself and it was the most amazing experience I could have had as an art historian," she said. "I would've kicked myself for the rest of life if I hadn't gone."
The rest of the county was free from protests or any overt sign that Egypt was in the midst of a revolution, Thoburn said. Groups of people were regularly gathered around television sets watching the news, but the only coverage she could pick up was from the Egyptian state media, which she called "criminal."
Many people in the south of the country said they were prepared to go to Tahrir Square in case there was a prolonged stand off between the population and Mubarak, but the revolution only lasted 16 days.
Thoburn said she was also struck by the normalcy in Iraq. Aside from occasional scars throughout the city, Baghdad was not in shambles. American soldiers only came out of their bases in emergencies, though sectarian violence remained a concern.
She said she found it a bit strange that Iraqis would point to a spot where a suicide bomber had blown him or herself up for sectarian reasons, then assert "Americans did that."
Thoburn found the Iraqi National Museum still mostly shuttered. It was left unguarded and was looted when American forces first took Baghdad and, nine years later, the museum is still not open except for a few exhibits. But Thoburn said people are slowly beginning to return artifacts that were stolen.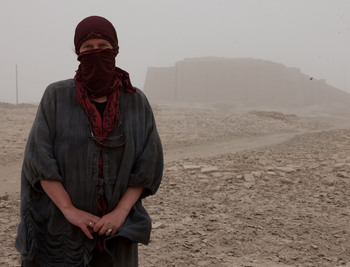 Photo Courtesy of Elisabeth Thoburn
Some of the archeological sites outside of Baghdad, which is part of the Cradle of Civilization, are also unsecured and have ammunition or tank tracks throughout them, though Thoburn said some of the sites are now fenced in.
In Palestine, Thoburn was again surprised by unexpected normalcy. She found the refugee camps in much better condition than what she had imagined.
"When we hear 'refugee camp' we picture a pretty bleak place with walls around it but, again, if you wouldn't have known you were in a refugee camp, you would have thought you just were in a neighborhood," she said. "That's what I would consider a lower-income neighborhood. There are neighborhoods in Detroit that are far worse than in the West Bank."
At the opposite end, Thoburn said she was struck by the affluence of the Israeli settlements, and said she was also surprised to find not all the settlers were on the extreme right wing, but quite moderate. Some just couldn't find housing anywhere else, she said.
The most militant spot was Hebron, where she said Hamas and Hezbollah flags flew on one side and Israeli's with the Bible in their hand stood on the other.
The city provided a prefect example of the main lessons she took away from her four-month trip.
"There is a truth if you look at it from one perspective and a truth if you look at it from another perspective," she said. "From an inside view you find a perfectly logical viewpoint and narrative, but from the outside you think 'How misguided are they.' "