Posted on
Wed, Nov 7, 2012 : 10:38 a.m.
Incumbent Washtenaw County sheriff, prosecutor, treasurer, clerk win
By Amy Biolchini
Four sitting Washtenaw County administrators will remain in office after winning their elections by wide margins Tuesday.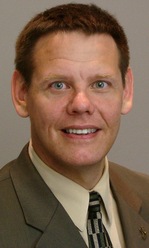 Voters in Washtenaw County returned the sitting prosecutor, sheriff, treasurer and clerk to office.
Voters have also chosen their next water resources commissioner, Democrat Evan Pratt, for a four-year term. Pratt, who received the endorsement of the retiring water resources commissioner Janis Bobrin, garnered 68.76 percent of the vote over his Republican opponent Eric Scheie.
Pratt was one of the top campaign fund-raisers in the county, bringing in $17,045 in cash and in-kind contributions.
He won his primary election with 72 percent of the vote against fellow Democrat Harry Bentz.
County prosecutor
Washtenaw County Prosecutor Brian Mackie will serve his sixth four-year term in the office after defeating challenger Justin Altman of Superior Township.
Altman graduated from Michigan State University Law School in 2011, and he's previously worked as an intern in the Washtenaw County Public Defender's Office.
Mackie garnered 85 percent of the vote in Tuesday's general election.
County sheriff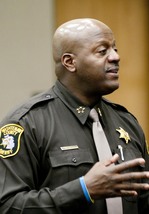 Tom Perkins | For AnnArbor.com
Washtenaw County Sheriff
Jerry Clayton
will remain in his post for another four-year term after defeating
his opponent, Jeffrey Gallatin
.
Clayton won 70.53 percent of the vote to Gallatin's 29.02 percent.
This is the second term as sheriff for Clayton, who was elected in 2008 after a 20-year career with the Sherif's Office.
Gallatin declined previous interview requests from AnnArbor.com and has run a very quiet race for the position.
Clayton has raised a considerable amount of funds for the position: $38,973 in cash and in-kind contributions.
County treasurer
County Treasurer and Democrat Catherine McClary will serve another four-year term in the office. McClary defeated her Republican opponent Marlene Chockley.
McClary received 68.51 percent of the vote to Chockley's 31.06 percent.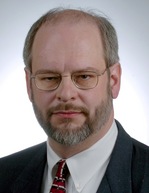 The treasurer serves a four-year term and has an annual salary of $98,570.
County clerk and register of deeds
Democrat Larry Kestenbaum will remain in his office as clerk and register of deeds after securing 68.39 percent of the vote.
His opponent, Republican Stanley F. Watson, won 31.06 percent of the vote.
The county clerk serves a four-year term and earns an annual salary of $101,528. Kestenbaum has been serving in that role since 2004.
Amy Biolchini covers Washtenaw County, health and environmental issues for AnnArbor.com. Reach her at (734) 623-2552, amybiolchini@annarbor.com or on Twitter.