Posted on
Thu, Mar 21, 2013 : 5:58 a.m.
Washtenaw County approves 10-year union contracts one week before right-to-work implementation
By Amy Biolchini
Editor's note: Alicia Ping's commissioner district has been corrected.
In an unprecedented chain of events, the Washtenaw County Board of Commissioners approved 10-year-long contracts with five of its unions Wednesday night one week before Michigan's new right-to-work law takes effect.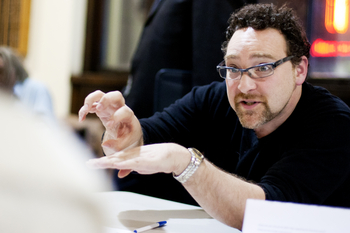 Andrew Kuhn | For AnnArbor.com
In exchange for the extended time frame, the unions agreed to changes in employee contributions to retirement and health care benefits for workers hired in 2014.
The resulting reduction in employee legacy costs were touted by commissioners Wednesday night as a major investment in the long-term fiscal stability of the county, though many commissioners admitted that the terms of the contracts weren't perfect.
"We are able to eliminate substantive legacy costs for the organization," said Commissioner Conan Smith, D-Ann Arbor. "It comes at the cost of introducing risk into the benefit system for our employees."
Contracts include wage increases for the units that negotiated with the county. The Board of Commissioners also approved similar wage increases for non-union employees Wednesday night.
"This has got to be one of the best contracts this county has ever negotiated," said Commissioner Ronnie Peterson, D-Ypsilanti, noting that it came after years of sacrifice of union employees during previous contract negotiations.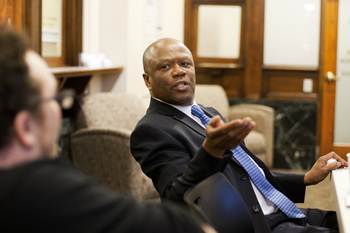 Andrew Kuhn | For AnnArbor.com
"This is a sharing loss. The greater loss, in terms of sacrifice, once again, comes from county employees. They're giving up a lot, to keep the rest of the organization afloat. And I think they're doing it because they're trusting the administration and leadership of this board to do what's right, and fair, and equitable in the years ahead."
Negotiations began one month ago after the Board of Commissioners passed a formal resolution both condemning right-to-work and directing county administration to begin negotiating union contracts.
"Labor and management came together … and worked out these contracts. It's an amazing accomplishment," said Commissioner Yousef Rabhi, D-Ann Arbor. "(These contracts) have some features that make some of us uncomfortable. … but this is a process, and it's a process that we all engaged in -- and at the end of the day, means a significant impact on the long-term fiscal stability of Washtenaw County."
The Michigan legislature passed the right-to-work law in December. The law removes the security clause in union contracts that requires workers to pay union dues as a condition of employment.
The law is being challenged in numerous lawsuits.
By extending union contracts before right-to-work is in effect in Michigan, the county is attempting to ensure that its new hires will still abide by the security clause included in the contracts and pay the union dues for the next 10 years.
The contracts
Unions of Washtenaw County employees that now have 10-year contracts are units I and II of the Public Defenders Association, units I and II of the Technical, Professional and Officeworkers Association of Michigan, units I and II of the Michigan Nurses Association, units I and II of the Assistant Prosecutor's Association and the largest union of county employees, AFSCME Local 2733.
Four of the contracts passed in an 8-1 vote, with Commissioner Dan Smith, R-Northfield Township, as the no vote.
Commissioner Peterson abstained from voting on the AFSCME Local 2733 contract, which passed in a 7-1 vote with dissent from Dan Smith.
"It's a 10-year-long contract in all but one case, and that is very likely longer than the service of most of us sitting around this table," Dan Smith said. "A 10-year contract severely binds future boards and dramatically eliminates the flexibility they have to respond to situations may face them seven or eight years down the road."
An additional union, AFSCME Local 3052, struck a five-year contract with the county Wednesday night as well. The contract passed 7-1, with Dan Smith as the dissenting vote and Peterson abstaining.
"This means security for the next five years," said Nancy Heine, president of Local 3052.
All of the contracts would have expired Dec. 31.
Heine said her union wanted a five-year contract because of the state of the economy. Though the change in the retirement contribution was a "stumbling block," Heine said it's what the union members wanted.
"It's more important for us to have the stability," Heine said in reference to union dues. "It helps us affect changes in Lansing for the next couple of years."
The 10-year-long contracts negotiated with five of the unions contain the same schedule of wage increases:
2014: Restore 3.85 percent to employee salary by eliminating banked leave days, as well as 2 percent non-structural pay increase
2015: 1 percent raise as of July 1; opportunity for 2 percent or 3 percent raise corresponding with property tax revenue at July 1
2016: 2 percent structural salary increase as of Jan. 1
2017: 2 percent non-structural raise in bi-weekly payments or as lump sum
2018: 1 percent raise as of July 1; opportunity for 2 percent or 3 percent raise corresponding with property tax revenue at July 1
2019: 2 percent structural salary increase as of Jan. 1
2020: 2 percent non-structural raise in bi-weekly payments or as lump sum
2021: 1 percent raise as of July 1; opportunity for 2 percent or 3 percent raise corresponding with property tax revenue at July 1
2022: 2 percent structural salary increase as of Jan. 1
2023: 2 percent non-structural raise in bi-weekly payments or as lump sum
Changes in retiree benefits and health care contributions are also the same throughout the five contracts.
For the five-year AFSCME 3052 contract, employees will receive the same schedule of raises through 2017 as negotiated in the 10-year-contract agreements with other unions.
The county's unions have taken concessions in contract negotiations with the county since 2007.
Heine said it will take employees until 2015 to bring salaries back to 2007 levels under the wage increase schedule the county adopted Wednesday.
County claims long-term savings
The main concession the unions gave up in exchange for the 10-year contract was the switch from a defined benefit retirement plan to a defined contribution plan.
A defined benefit plan is more expensive for employers, because they're typically the ones funding the retirement savings for an employee. In a defined contribution plan, employees decide how much of their paycheck they want to put into a retirement savings account like a 401(k).
"This is a very big change in the way the county does business," Conan Smith said.
In 2013, the county contributed 10.36 percent to the retirement savings of non-sheriff union employees. County administration projected the county's contribution would grow by eight percent per year.
With personnel expenditures at 67 percent of the county's general fund budget, Administrator Verna McDaniel named a $2.62 million reduction in personal services over the next four years as a part of her budget recommendations in January.
A major part of the reduction is from the change in the retirement plans set in the new union contracts -- an unintended but positive result of negotiations for the county.
"Overall, this is the best thing that could have happened for planning for the county," said Commissioner Alicia Ping, R-Saline.
The county is in a budget deliberation year, and must produce a balanced budget for the next two years this fall. McDaniel is pushing for a four-year budget, which would require $6.88 million in cuts but eliminate the structural deficit.
For all new employees hired in 2014, they will enter into defined contribution plans for their retirement savings. Current employees can with their current defined benefit plan, but caps will be implemented on how much the county will contribute.
Under the defined contribution plan, the county contributes between 6 percent and 7.5 percent to employee pensions.
"You take care of the employees who are here and are existing and who have taken the sacrifice over the long haul and although we were compassionate and wanted to take care of future employees, we don't know how many future employees we're going to have," said Caryette Fenner, president of AFSCME Local 2733.
The new plan will be riskier for employees, said Conan Smith.
"People are going to have to pay attention to their contribution," Fenner said.
Benefits for non-union employees
Annual wage increases and benefit adjustments the Board of Commissioners agreed to for AFSCME Local 2733 were extended to all non-union employees in the county and to five elected officials, effective March 21 to Dec. 31, 2023.
The same resolution passed Wednesday also set the annual salaries of three county elected officials: Water Resources Commissioner Evan Pratt, Treasurer Catherine McClary and Clerk and Register of Deeds Larry Kestenbaum at $101,685, effective immediately.
Per 2012 salary data, McClary will be getting a $3,115 raise from her former annual pay of $98,570.
The clerk and water resources commissioner were both paid $101,528 in 2012.
Amy Biolchini covers Washtenaw County, health and environmental issues for AnnArbor.com. Reach her at (734) 623-2552, amybiolchini@annarbor.com or on Twitter.