Posted on
Fri, Mar 8, 2013 : 5:59 a.m.
Commissioners may consider road tax for Washtenaw County
By Amy Biolchini
Editor's note: This story was updated at 9:30 a.m. with additional information about possible consolidation.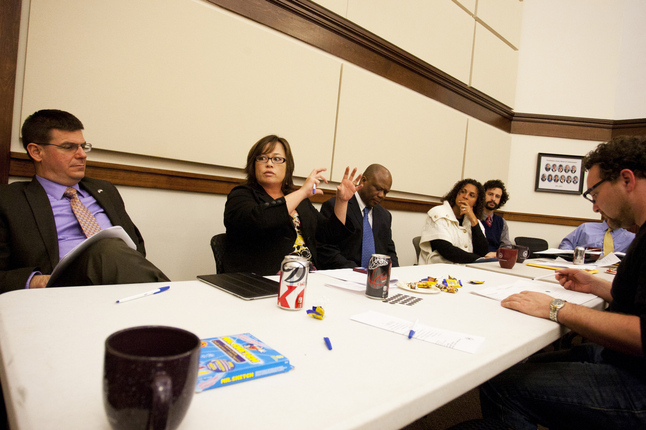 Andrew Kuhn | For AnnArbor.com
A countywide tax to fund road improvements and the consolidation of the
Washtenaw County Road Commission
-- among other big ideas -- will likely be debated this spring as the
Washtenaw County Board of Commissioners
begins its budget planning process.
The commissioners met in a three-hour-long public budget retreat Thursday night to establish action priorities to direct the budget process this year before a crowd of county staff and elected officials.
It's the first step to drafting a two-year budget for 2014 and 2015. For 2014, $3.9 million in structural cuts are needed. By 2015, that figure would compound to about $4.9 million.
Commissioners could choose to implement a four-year budget with $6.88 million in cuts to avoid a looming $9.3 million structural deficit in 2017.
"We owe it to our workforce and we owe it to the public that this ship is well to sail for years to come," said Commissioner Ronnie Peterson, D-Ypsilanti.
Better roads quickly emerged as a priority among commissioners Thursday night. Proposals being floated in the state legislature to increase funding for local road projects have yet to hit solid ground.
There is no millage in Washtenaw County to support the work of the Washtenaw County Road Commission, which operates on a mix of federal and state funds.
Creating a new tax to fund local road improvements would have to be deliberated this spring if it were to be passed this year, said Commissioner Conan Smith, D-Ann Arbor.
"If we're going to have that conversation, we need to do that now," Smith said.
Several commissioners expressed interest in evaluating the cost-savings of eliminating the road commission board and bringing the governance of the road commission directly under the Board of Commissioners during the budget planning process.
"I'm certainly not interested in fixing something that's not broken," said Commissioner Dan Smith, R-Northfield Township. "But we need to come to that decision one way or the other."
The road commission is independent from the Board of Commissioners and has a board of three members — Chairman Doug Fuller, Fred Veigel and Ken Schwartz — who are appointed by the county.
The road commission's board approves its own budget, union contracts, hiring and purchase agreements. The commission is responsible for the plowing, safety, care and maintenance of 1,649 miles of roads in the county, as well as 580 miles of state highways including Interstate 94, U.S. 23 and M-14.
The Jackson County Board of Commissioners voted in January to dissolve its road commission after an ad hoc review committee found cost savings in the measure, as well as low morale in the road commission.
Other priorities established during the budget retreat Thursday night include an emphasis on addressing workforce training and access issues, continuing mass transit conversations, increasing access to mental health and public health services, as well as investing in the east side of the county to stimulate the economy.
Conan Smith said the Ypsilanti-Willow Run school district merger that created Ypsilanti Community Schools is a big issue for the future of the east side.
The systemic unemployment and poverty issues in Ypsilanti can't be solved unless the city has enough revenue from property taxes to provide basic human services, Conan Smith said.
To improve the quality of the Ypsilanti housing market, investment needs to first be made in the Ypsilanti Community Schools to make the are more attractive for growth, Conan Smith said.
"We need to present a compelling reason for someone to compete for housing in that area," he said.
That could be accomplished by expanding the Perry Nursery School for at-risk children in Ypsilanti, as well as offering universal college education for students in the district, Conan Smith said.
Though the ideas floated during the budget retreat directly related to improving the quality of life for county residents, direct implications on county departments and their budgets remain to be seen.
The commissioners were clear that the heavy staff cuts that were a part of the previous budget process would not happen again this year. Workforce capacity should remain at its current levels, Conan Smith said.
"You have asked the people to sacrifice — that day is over," Commissioner Peterson said.
The county's 2013 Equalization report will be issued in April. The County Administrator will present a recommended draft of the budget to the board in September.
Amy Biolchini covers Washtenaw County, health and environmental issues for AnnArbor.com. Reach her at (734) 623-2552, amybiolchini@annarbor.com or on Twitter.