Posted on
Wed, Jul 28, 2010 : 8:21 p.m.
Washtenaw County Commissioner Ronnie Peterson and his cousin go on trial in tenant civil rights case
By Art Aisner
DETROIT - Washtenaw County Commissioner Ronnie Peterson and a man he relied on to manage several of his rental properties in Ypsilanti Township violated the civil rights of six female tenants through a blatant pattern of sexual harassment, government attorneys said today.
Though Peterson, D-Ypsilanti, never made sexual advances toward the women or offered discounted rent in return for sexual favors, he was aware Glenn Johnson did so on multiple occasions, argued Judy Levy, an attorney with the U.S. Department of Justice's civil rights division.
Peterson and his property management corporation, First Pitch LLC, are liable for both compensatory and punitive damages, Levy asserted as the civil trial for Peterson and Johnson got under way in Detroit federal court today.
The U.S. Department of Justice filed a lawsuit against Peterson and Johnson in January 2009.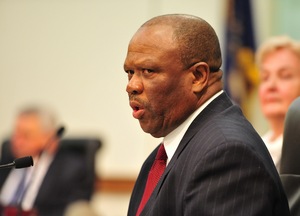 Ryan J. Stanton | AnnArbor.com
But money - not civil rights - is what this case is all about, said Don Ferris, Peterson's attorney.
Several of the women indicated during sworn depositions they hoped to get thousands of dollars from Peterson by coming forward, Ferris said. He said Peterson emphatically denies the charges and is willing to take a significant risk by not talking about settlements.
"We have made no settlement offer in this case because Ronnie Peterson didn't do anything wrong," Ferris said.
Peterson, whose district includes portions of Ypsilanti and Ypsilanti Township, faces fellow Democrat Mark Namatevs in the Aug. 3 primary.
Ferris said Peterson would not comment about the case or the election, but indicated the long-time commissioner will testify, per a government subpoena. So will Johnson, who is Peterson's cousin.
Levy told jurors the six women are all single moms who were having difficulty finding adequate housing for their families.
They will share similar stories of how Johnson withheld tenants' keys and delayed routine maintenance at five of Peterson's 11 rental properties until they accepted his sexual advances, Levy said. She said he also threatened them with eviction, steep rent hikes, police harassment and even violence if they rebuffed him.
Barbara Scott, a 40-year-old mother of eight, testified Johnson wouldn't turn over the keys to her residence in the 600 block of Calder Street in 2006 until she had sex with him on the basement floor of a home where he worked as a health-care aide.
Another woman is expected to testify that she had sex with Johnson, who also worked with Ypsilanti schools, in a windowless room at Ypsilanti High School during a meeting about rent payments, Levy said.
The women were desperate for better living conditions and were all drawn to Peterson's properties because of his lax attitude on approving tenants, Levy argued. He rarely did credit checks and typically did not have lease agreements.
"It all sounded too good to be true, and it was," Levy said. "No one should do what Ms. Scott did just to find a place to live."
Johnson's attorney, Jay Courtright, denied the allegations. Both he and Ferris repeatedly mentioned the women never reported discriminatory treatment to authorities.
Ferris argued Peterson has had more than 100 tenants since 1974, and only these six have levied any formal complaints. Furthermore, four of the women fought eviction proceedings brought by Peterson because they failed to pay rent, and never once mentioned sexual harassment to judges or attorneys working on those cases, he said.
Levy said the women will testify they were intimidated by Johnson and feared he could harm them and their families. She also said an expert will testify that their instinct not to report the incidents to authorities is typical for victims of sexual harassment.
Attorneys agreed on a panel of five men and three women after about two hours of jury selection this morning. The trial before U.S. District Judge Julian Abele Cook is scheduled to last roughly a week.
Art Aisner is a freelance writer for AnnArbor.com. Reach the news desk at news@annarbor.com or 734-623-2530.