Posted on
Wed, Jan 9, 2013 : 3:54 p.m.
Washtenaw County Democrats earn high marks for lame duck votes in new Michigan Environmental Scorecard
By Ryan J. Stanton
The Ann Arbor-based Michigan League of Conservation Voters on Wednesday released a new environmental scorecard for the state Legislature's recent lame duck session.
The scorecard offers a look at the voting records of Michigan state representatives and senators on conservation and environmental issues during the busy last few weeks of the 2011-12 session.
The report scores 10 votes from the lame duck, including legislation removing sand dune protections, the establishment of a regional transit authority in Southeast Michigan, and legislation that weakened cleanup regulations for contaminated properties.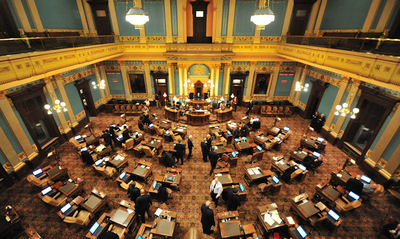 Ryan J. Stanton | AnnArbor.com file photo
House Democrats collectively averaged 81 percent, while House Republicans averaged 39 percent. In the Senate, the Democrats averaged 95 percent, while Republicans averaged 35 percent.
For a complete analysis, download the report.
Jack Schmitt, the Michigan LCV's political director, said it's his group's mission to hold elected officials accountable for the decisions they make that affect Michigan's environment.
"As the new Legislature is sworn in today, we look forward to advocating for a greater appreciation of Michigan's lands, waters, air, and Great Lakes than we saw from the last Legislature," he said.
"Overall, some gains were made, but much was lost," he added. "This Legislature can start fresh. The 2013-14 scorecard starts now."
Two new state representatives for Washtenaw County — Adam Zemke, D-Ann Arbor, and Gretchen Driskell, D-Saline, were sworn into office on Wednesday. State Reps. David Rutledge, D-Superior Township, and Jeff Irwin, D-Ann Arbor, also returned to their posts.
Irwin was among at the top of his class in the LCV's latest scorecard with a 90 percent ranking for the lame duck session. His overall score for 2011-12 was 91 percent. Rutledge had a score of 80 percent for the lame duck, and 83 percent for the 2011-12 legislative session.
State Sen. Rebekah Warren, D-Ann Arbor, has maintained a perfect score of 100 percent throughout her career and the lame duck was no exception.
Irwin and Rutledge, like many of their colleagues, lost points for voting against creation of the Southeast Michigan Regional Transit Authority.
Additionally, Rutledge lost points for his vote in favor of legislation that doubles the span of time between reviews of Michigan's construction codes from every three years to every six years.
Washtenaw County's two Republican representatives, whose terms ended last month, cast what the Michigan LCV considered anti-environment votes 6 out of 10 times in the lame duck.
That gave both Mark Ouimet, R-Scio Township, and Rick Olson, R-York Township, a score of 40 percent for the lame duck, and even lower scores for the rest of 2011-12.
Ryan J. Stanton covers government and politics for AnnArbor.com. Reach him at ryanstanton@annarbor.com or 734-623-2529. You also can follow him on Twitter or subscribe to AnnArbor.com's email newsletters.