Posted on
Sat, May 18, 2013 : 6:51 p.m.
Washtenaw County Health Departments issues whooping cough prevention tips after possible student exposure
By Cole Bertsos
Editor's note: A clarification has been added to this story to clarify who is advised to seek antibiotics.
The Washtenaw County Health Department emailed parents of Ann Arbor Public Schools students Friday who may have been exposed to whooping cough with recommended actions to prevent the disease from spreading.
Reports on Friday indicated at least five Pioneer High School students have the disease. Updated information was not available Saturday.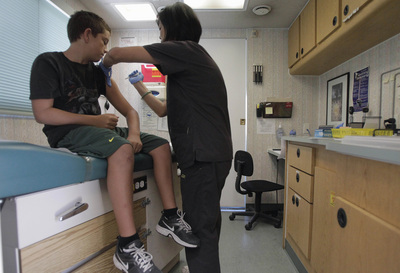 Jae C. Hong | The Associated Press
The email was only sent to those in the area that the health department believed were exposed to the disease.
The release said the main hope for educating people about prevention of whooping cough, also known as pertussis, was to keep individuals at high risk of complications from the disease protected and to break the chain of the disease throughout the community.
Included in the release were several tips to help carry out the department's objectives.
People of all ages are advised by the health department to call their physician if they are experiencing any of the following symptoms:
Unusual cough lasting 7 days or more (with or without the signature "whooping" sound)
Sporadic bursts of coughing
Coughing-induced vomitting
Regardless of whether individuals have received a whooping cough vaccination, anyone who has come into close contact — which includes face-to-face exposure, being within three feet of a known case of pertussis, or direct contact with their respiratory, oral or nasal secretions — is encouraged to be put on antibiotics to treat a possible case of the disease.
The health department is also suggesting antibiotics for individuals exposed to the disease in the following categories:
All children sharing a childcare classroom with a preschool child who has pertussis
Anyone sharing a classroom or work space with someone with the disease
Infants less than 1 year old exposed to pertussis
Pregnant women exposed to the disease
People living with or working with infants and pregnant women who have been exposed to the disease
Immune-compromised people (those on chemotherapy or other drugs that affect one's immune system) who have been exposed
Anyone with a chronic respiratory disease, including asthma, who has been exposed
Anyone experiencing cold-like respiratory symptoms and have been exposed to a person with pertussis are advised to stay home from school and work until they have completed at least five days of antibiotics.
The health department also recommends parents and faculty review the immunization status of all students and staff and remember that no vaccine is 100 percent effective, and those vaccinated are still susceptible to modified forms of the disease.