Washtenaw County household income rises, but so does percentage of households living in poverty
Posted on Thu, Dec 16, 2010 : 6:03 a.m.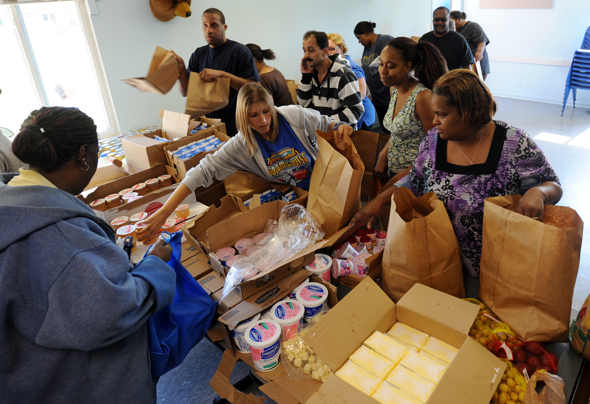 The number of Washtenaw County households making more than $200,000 a year skyrocketed in the past decade, far outpacing the growth at the top end of the U.S. Census Bureau's income categories across the state.
That's the good news.
But the number of Washtenaw County households making less than $10,000 a year grew by 13 percent in the past decade, also outpacing growth in the Census' lowest income category across the state.
That's the bad news.
The trend held true in the city of Ann Arbor, where the number of households making more than $200,000 a year grew slower than across the county as a whole — but still considerably faster than the rest of the state.
However, the number of households making less than $10,000 a year in income grew faster in Ann Arbor than across Washtenaw County or the state.
The numbers highlight what local agencies who work with those in need say they've known for years — while Ann Arbor and Washtenaw County are economically more robust and in a large part sheltered from the rest of Michigan's struggles, there is a growing and often hidden class of people struggling to survive.
"Not only are there more of them, but also their conditions are worse," said Joan Doughty, director of the Community Action Network. "It's one thing for a child not to be able to celebrate their birthday — it's another thing to be couch surfing or having all their stuff thrown out at the curb.
"It's more than just a divide in income, I think it's a divide in ability to navigate our society and what's required now."
Mark Erickson is among those having a hard time. In the last decade, the 46-year-old has been laid off from two jobs, had his house foreclosed on and is now bouncing from cheap apartment to cheap apartment, while occasional staying on the street or friends' spare rooms.
"For like the first three or four years (of the decade), it seemed like I was going to be OK," he said while looking for jobs online at the Ypsilanti District Library. "I got a couple of raises, and I was making a pretty decent living. It all fell apart so fast. I know a lot of my friends who are suffering. Most of them haven't lost everything, but a ton of people I know have seen a big drop in their income. I think there are a lot of folks out there who are hurting. You just don't see it very much, especially in Ann Arbor."
Even applying for a job can be a barrier for some folks, Doughty said. She said a local company was interested in giving jobs to folks who live in the Bryant neighborhood, one of Ann Arbor's poorest. But to get the warehouse job, they had to pass a computer skills class, and many didn't.
"I think our society is becoming more and more complex," Doughty said. "The bar is being set higher and higher."
And that's leaving people behind, she said, especially those with cognitive problems.
"There's always been people in society who had cognitive difficulty, but there were always jobs they could do," she said.
In Washtenaw County, the median household income is just under $52,000, the Census numbers show. Those numbers were released earlier this week as part of the last big data dump from the Census Bureau before full results from the 2010 Census are available early next year.
The data is based on a rolling annual sample survey mailed to about 3 million addresses between Jan. 1, 2005, and Dec. 31, 2009, the Census Bureau said in a press release. By pooling several years of survey responses, the ACS can generate detailed statistical portraits of smaller geographies. The U.S. Census Bureau will release a new set of five-year estimates every year.
The income levels are 2009 figures compared against Census 2000 data.
The numbers for local communities confirm what's generally known about wealth in the county — Scio Township, Dexter and Saline have the highest median household income and the highest percentage of white residents. Ypsilanti and Ypsilanti Township have the lowest median household income and the largest percentage of black residents.
The gap between Scio Township's median household income (the highest in the county) and Ypsilanti's median household income (the lowest in the county) is about $50,000.
According to the Michigan League for Human Services, median household income in Michigan for whites fell by about 10 percent, while it fell more than 14 percent for black households.
Jane Zender-Merrell, a senior research associate at the Michigan League for Human Services and the director of the Kids Count in Michigan project, said across the state and nation, researchers are seeing a growing segregation between those who have money and those who don't that largely matches segregation by race.
"You have this concentration of poverty, which compounds the problems because people who are living in poverty don't have access to neighborhood supports they need," she said.
David Jesse covers higher education for AnnArbor.com. He can be reached at davidjesse@annarbor.com or at 734-623-2534.