Posted on
Mon, May 20, 2013 : 4:15 p.m.
Washtenaw County law enforcement agencies begin 2 week crackdown on safety belt use
By Chelsea Hoedl
Ann Arbor-area police agencies will be looking for seatbelt scofflaws during a two-week stepped-up enforcement period surrounding Memorial Day.
The increased enforcement, which began Monday and continues through June 2, is part of the Click It or Ticket campaign, which began in 2005 to increase awareness of Michigan safety belt laws.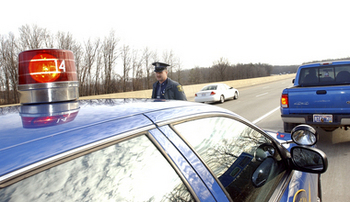 Officers will be on the lookout for unbuckled motorists in special enforcement zones, marked with large portable signs, according to a press release from the Washtenaw County Sheriff's Office. Police officers will work more than 200 hours in Washtenaw County alone during the enforcement period. This special traffic enforcement is funded by the federal traffic safety funds administrated by the Office of Highway Safety Planning.
Participating agencies include the Washtenaw County Sheriff's Office, University of Michigan Department of Public Safety, Pittsfield Township Department of Public Safety, Saline Police , and Northfield Township Police.
Last year, 93.6 percent of motorists in Michigan used safety belts, down from the all-time high of 97.9 percent in 2009. The decline in belt use has continued. According to the release, the enforcement push taking place this week is meant to reverse the decline which began in 2010.
All drivers and passengers 15 years or younger in any seating position are required to be buckled, according to Michigan law. Children must be in a car seat until they are 8 years old or 4 feet 9 inches tall. Failure to follow these laws will result in a ticket. Fines begin at $65.
A similar specialized enforcement period launched last year resulted in 8,125 seat belt citations and 213 child restraint citations.
Chelsea Hoedl is an intern for AnnArbor.com. Contact her at choedl@mlive.com.