Posted on
Sun, Jan 13, 2013 : 9:30 a.m.
Washtenaw County offering half-priced radon test kits during January
By Lisa Carolin
Because homes are closed up this time of year, the Washtenaw County Public Health Department says it is an ideal time to test your home for radon. The Environmental Health Division is offering half-priced radon home test kits during the month of January.
Public health estimates up to 45 percent of the homes in Washtenaw County have elevated radon levels. The Environmental Protection Agency recommends taking action when levels are above 4.0 pCi/L (PicoCuries per liter) inside a home.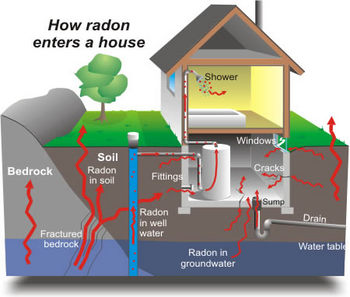 Courtesy of Washtenaw County Public Health
Angela Parsons, environmental health education coordinator for Washtenaw County, said varying levels of radon have been found in all parts of Washtenaw County. She said it is important to test each home because radon levels can vary significantly between homes.
"Higher radon levels can be caused by the geological formations in that area," said Parsons. "More uranium-rich soil and rocks lead to higher radon as radon is a decay product of uranium."
The amount of radon that escapes from the soil to enter the house depends on weather, soil and other factors.
"This is a heavy glaciated area with deposits of uranium ore in the earth, which breaks down into radium over time and releases radon gas," said David Aschenbrenner, service manager for Protech Environmental in Ann Arbor, a certified radon testing company that offers removal and remediation services.
"A lot of radon testing is correlated to real estate transactions," said Aschenbrenner. "When you purchase a house, an inspector comes in and recommends a radon test."
"I tell people to not walk away from the home of their dreams because of radon, because it can be fixed relatively easily," said Parsons.
Aschenbrenner said that his company typically charges around $800 to remove radon from a home and as much as $1,000 in an extreme case.
Parsons said that any house could have radon. She said that some newer homes have been built "radon resistant," which involves installing a gas-permeable layer under the foundation and a vent pipe up through the home so it exhausts out the roof.
"It basically gives the soil gas and radon a place to go so it doesn't enter the home," she said.
Radon, which is a tasteless, colorless, and odorless radioactive gas, is the leading cause of lung cancer for non-smokers in the United States. Research shows that radon is associated with 21,000 lung cancer deaths each year in this country.
"Not everyone who breathes radon will develop lung cancer, just like not everyone who smokes will get lung cancer," said Parsons. "The chance of getting lung cancer from exposure to radon depends on how much radon is in your home, how much time you spend in your home, and whether you currently smoke or have smoked in the past."
She says there is a synergistic effect between radon and smoking.
The radon test kits cost $5 and are available at the Western County Service Center at 705 N. Zeeb Road, just north of the I-94 interchange at Exit #169 in Scio Township. The hours are 8:30 a.m.-5 p.m., and the center will be closed Friday, Jan. 18 and Monday, Jan. 21.
Radon test kits can be purchased by mail for an additional $2 by emailing parsonsa@ewashtenaw.org or by calling 734-222-3869. For more information, go to www.ewashtenaw.org/radon.
Lisa Carolin is a freelance reporter for AnnArbor.com. To reach the news desk, email news@annarbor.com or call 734-623-2530.