Posted on
Thu, Feb 17, 2011 : 5:59 a.m.
Washtenaw County expecting $30 million in unpaid property taxes as hundreds face foreclosure
By Ryan J. Stanton
Being in the tax collection business has grown increasingly difficult in today's economic environment, says Washtenaw County Treasurer Catherine McClary.
McClary told the Washtenaw County Board of Commissioners Wednesday night her office estimates the total amount of unpaid 2010 real property taxes in the county will be about $30 million on March 1 — exclusive of interest, fees and penalties.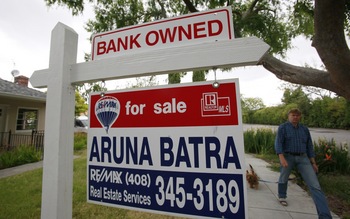 File photo
As a result, commissioners authorized issuing up to $50 million in general obligation bonds to borrow against any actual delinquent property taxes come March 1.
"The amount takes my breath away as well," McClary told commissioners.
The money borrowed will go into the county's delinquent tax revolving fund and will be used to make sure local units of government — including cities, townships and schools throughout the county — can continue to operate as they've budgeted.
The county treasurer then has a couple of years to pay off the debt through collection of delinquent taxes, with penalty fees and interest added on. If the county can't collect taxes on a property for whatever reason, the cash advance is charged back to the local unit.
McClary said the county has used a similar system every year going back to the 1970s, but the level of delinquent taxes now being seen is unprecedented.
Since 1997, the county has foreclosed on 539 properties for unpaid taxes — and 391 of those foreclosures occurred last year. This year is looking worse, with 900 properties facing foreclosure, McClary said.
"I don't know exactly how many of them are homes, and some of them are vacant homes," McClary said. "But I can tell you that 550 of them are just vacant undeveloped land, so the big change from last year to this year is the undeveloped land."
By that, McClary means swaths of land held by real estate speculators, developers and banks — properties once purchased with hopes of one day developing them — are being abandoned due to miserable economic conditions and lack of available financing and market demand.
"We have an oversupply of housing, and there's not enough credit in the banking institutions that will provide the loans to build more housing when we're overstocked," she said.
McClary said the good news is the amount of delinquent taxes — at least on residential properties — is finally starting to level off. That's a good indicator that the economy is heading toward a recovery, she said.
However, delinquent taxes still are on the rise for commercial properties, as well as for undeveloped land, she said.
The county is seeing about 11,000 delinquent parcels a year, McClary said. After a year, the county is able to collect the taxes owed on all but about 3,000 of them, she said.
The 3,000 that still haven't paid taxes are then targeted for foreclosure, and the county begins a process of working closely with property owners to avoid foreclosure.
"Our focus has always been on tax collection," McClary said. "If we can collect the taxes, we prevent homelessness, we prevent upheaval in a family's life, we prevent neighborhood blight, and we also bring in money to the county. But it is becoming increasingly difficult."
McClary gave a year-end report to the board Wednesday night in which she said the treasurer's office returned $5.5 million to the county from delinquent tax revenue in 2010, including fees and interest — more than double what was budgeted.
McClary, who manages the county's more than $130 million in investments, also reported the county saw a nearly 0.6 percent return on investments for 2010 — or about $737,602. Overall, she said her office brought in $10.6 million last year, including from delinquent tax and investment revenues, the county's accommodation tax, dog licenses and tax searches.
In other action Wednesday, commissioners approved initiating a review of county expenses by an outside vendor. The county will negotiate a contract with Expense Reduction Analysts Inc. to act as the vendor for a cost recovery and cost containment program, which will look to see whether the county is overpaying for services and if cheaper options are available.
The review comes as the county seeks to address a $20.9 million structural deficit over the next two years.
County Administrator Verna McDaniel is expected to present a revised State of the County report to the board in May, with final budget recommendations following in September. The board is expected to adopt a new two-year budget in November.
In other finance matters, commissioners approved a resolution that updates the county's policy on issuance and use of county credit cards. Officials said increased use of credit cards by select county officers and employees created the need for a review and update of the policy to ensure effective internal controls and procedures are in place.
Commissioners also took action Wednesday to reaffirm a memorandum of understanding between the county and the Washtenaw County Trial Court, specifying the rights and duties of each party with respect to budgetary and operational issues.
Under Michigan law, the 22nd Judicial Circuit Court, Washtenaw County Probate Court and 14A District Court — collectively known as the Washtenaw County Trial Court — is a separate branch of government. The county is the funding unit for the court.
The approved resolution provides the contractual framework for the court to be included in the county's biennial budget process, and to cooperate with the county on budget control once the board of commissioners has approved the court's lump sum budget.
Ryan J. Stanton covers government and politics for AnnArbor.com. Reach him at ryanstanton@annarbor.com or 734-623-2529.