Posted on
Thu, Mar 18, 2010 : 6:02 a.m.
Washtenaw County officials vote to dissolve land bank authority
By Ryan J. Stanton
Washtenaw County Treasurer Catherine McClary sat quietly on the sidelines Wednesday night as county commissioners voted to dissolve the county's recently formed land bank authority.
After the meeting was over, McClary expressed regret to see the county miss out on what she said was an opportunity to do something positive with the county's hundreds of foreclosed properties.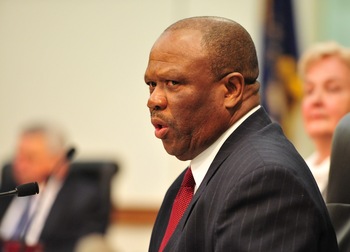 Ryan J. Stanton | AnnArbor.com
With foreclosures near record rates, the Washtenaw County Board of Commissioners took McClary's advice last July to create the land bank authority to give local officials alternatives to auctioning off foreclosed properties.
Without a land bank authority, the county's only option for dealing with foreclosed land is to auction it off to the highest bidder. The land bank authority could have taken possession of properties in default and resold them.
But before voting on Wednesday, commissioners cited a lack of agreement between the board and McClary on issues surrounding the land bank authority.
Commissioners also said funding for the land bank authority had fallen through. The county was hoping to get about $5 million in Neighborhood Stabilization Program grant dollars that never materialized, leaving the authority underfunded.
Commissioner Jeff Irwin, D-11th District, said a lack of strategy - coupled with a lack of funding - caused commissioners to question the viability of the land bank, and its usefulness was becoming less and less clear.
"There were a lot of concerns about exactly what types of strategies and exactly what types of properties might this land bank look to go after, how long might they hold them and for what purpose?" Irwin said. "There were a lot of questions and, as a result of that, this board asked the land bank authority and the treasurer to come back with some strategies for exactly how this tool might be used in the future ... but in the last six or more months we haven't really seen any strategies."
Multiple commissioners said they reluctantly were deciding to step back from the land bank authority for now, expressing regret that there were so many challenges involved. Some said they wouldn't rule out reconsidering it as an option in the future.
McClary said it could help repurpose foreclosed properties.
"Two years ago, I foreclosed approximately 50 properties. Last year, I foreclosed 102. This year, I foreclosed 515," McClary said, adding that many of those properties end up auctioned off to real estate speculators in other states and countries.
"Last year, 40 percent of our properties were sold to out-of-state or out-of-country owners," she said. "And 60 percent of the purchasers were corporations or limited liability companies, so these aren't even individuals. These are entities with names like Seized Property LLC out of Nevada."
The county now must send a letter to the state, beginning a six-month notice period to officially dissolve the authority.
"I did push hard for it, but you cannot have a successful county land bank without the support of the board of commissioners and the commissioners did not make their appointments to the land bank board," McClary said after Wednesday's meeting.
She said the board of commissioners was responsible for appointing two members to the lank bank authority's seven-member governing board, but dragged its feet on doing so for the last eight months. She said commissioners had opportunities to make those appointments but did not follow through.
"One of the concerns was that, out of those two appointments, one was a supervisor from the western part of the county and the other was a commissioner, and they wanted two commissioners," McClary said. "And we made that possible. Then they had three appointments and they didn't make any of them."
Commissioner Ronnie Peterson, D-6th District, expressed concerns that without a land bank authority the county has little control over what's happening in its neighborhoods and communities as more and more properties are foreclosed.
Ypsilanti Mayor Paul Schreiber expressed similar concerns Wednesday night as he addressed the board. He urged commissioners to reconsider dissolving the land bank authority, but they ultimately went against his advice.
McClary said it's the cities and townships of the county that stand to lose the most from the lack of a land bank authority. She said the land bank authority allows the county to work with local units of government to redevelop foreclosed properties.
Commissioners voted 9-2 to dissolve the land bank authority in committee on Wednesday, with Conan Smith, D-10th District, and Peterson voting no. When it went to the full board meeting that immediately followed, the vote was 8-1 with Peterson being the lone no vote. Smith and Commissioner Ken Schwartz, D-2nd District, had stepped away from their seats and were not present for the vote.
Smith said he's sad to see the county reach a point where it is dissolving the land bank authority, leaving the county with one less tool in its belt. He said it's going to be to the county's detriment that it wasn't able to resolve its own issues.
Schwartz said he was enthusiastic about establishing a land bank back in July. He acknowledged some the problems the county experienced were the board's fault.
"Looking back at it now, I kind of feel that in many ways we failed to maybe do our homework as a board and look at the land bank in the context of our community development, our neighborhood stabilization strategies, our urban county committees and aligning those with priorities of the board in a way that perhaps would have made this more successful," he said.
"One of the commissioners characterized it as 'taffy pulling,'" McClary said of the debate over the land bank authority. "I think they had a lot of issues and, yes, I'm disappointed, but I think I'm more disappointed that those of us who supported the land bank really were not able to articulate well enough what some of the advantages would be. And I think the commissioners just didn't see the advantages."
Ryan J. Stanton covers government for AnnArbor.com. Reach him at ryanstanton@annarbor.com or 734-623-2529.