Posted on
Tue, Feb 28, 2012 : 10:05 p.m.
Romney beats Santorum to win both Washtenaw County and Michigan
By Ryan J. Stanton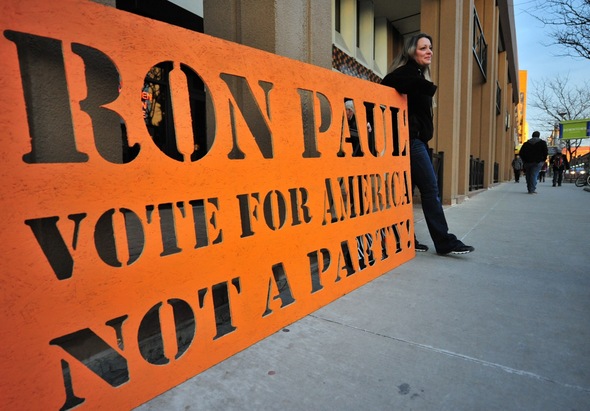 Ryan J. Stanton | AnnArbor.com
It's being reported that Mitt Romney has won Michigan, and voters who went to the polls in Ann Arbor and Washtenaw County had a hand in that victory.
With all precincts reporting, Romney pulled 42.2 percent of the vote in Washtenaw County, beating his closest rival, Rick Santorum.
Santorum received 37.1 percent of the local vote, followed by Ron Paul with 12.6 percent and Newt Gingrich with 5.4 percent.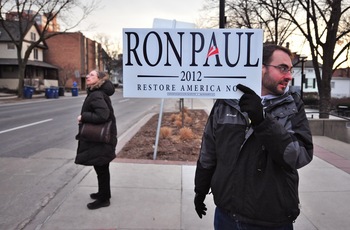 Ryan J. Stanton | AnnArbor.com
The Detroit Free Press reported that with 87.6 percent of Michigan precincts counted, Romney led 41 percent to Santorum's 38 percent. Paul had 12 percent and Gingrich had 7 percent.
Romney did better locally than he did in 2008, when had 10,223 ballots cast in his favor in Washtenaw County, about 36.8 percent of the vote.
That was compared to John McCain's 33.5 percent, Mike Huckabee's 12.9 percent and Ron Paul's 8.1 percent.
There were 56,392 ballots cast in the January 2008 presidential primary in Washtenaw County, for a turnout of 22.6 percent. Nearly 28,600 — or 50.6 percent — of those were on the Democratic ticket.
With 35,040 ballots cast on Tuesday, total turnout in Washtenaw County was 13.3 percent.
Obama appeared alone on the Democratic ticket, which was a change from 2008 when he wasn't on the Michigan primary ballot at all. Obama, Bill Richardson, Joe Biden and John Edwards all withdrew from the the state's primary ballot four years ago following the state's breach of Democratic National Convention rules.
Hillary Clinton went on to win 43 percent of the vote in Washtenaw County in 2008, while 45.5 percent of Democrats cast ballots saying they were uncommitted.
Despite the lack of a contest on the Democratic ticket on Tuesday, with all precincts reporting, 4,651 votes were cast for Obama in Washtenaw County, compared with 12,611 for Romney and 11,097 for Santorum.
It's possible that a candidate who doesn't win the popular vote in Michigan could end up with more delegates by winning a majority of the state's 14 congressional districts.
Twenty-eight of Michigan's 30 delegates are to be doled out depending on the winner in each new congressional district, meaning Romney and Santorum could split much of the state.
County Clerk Larry Kestenbaum noted numerous jurisdictions and precincts straddle the new congressional lines, and someone, presumably a Republican Party official, is going to have to figure out a way to allocate those votes.
If the allocations affect the number of delegates won by candidates, Kestenbaum said expect controversy over those details — and potentially a black eye for Michigan.
Ann Arbor resident Lizzie Shubin, a Ron Paul supporter who tried to encourage passersby on Liberty Street to vote on Tuesday, predicted there'd be a low turnout.
"I would say that most people are not voting," she said. "People don't vote and it's sad because how else are you supposed to have your voice heard?"
"A lot of people just seem disenfranchised and don't care," agreed Erik Nowakowski, a small business owner in Ypsilanti who joined Shubin in trying to drum up support for Paul. "But it's encouraging — we've gotten a lot of waves and horn honks here."
Paul, who completed his medical residency at Henry Ford Hospital in Detroit in 1962, has his Michigan campaign headquarters based on Main Street in downtown Ann Arbor.
Romney, a Michigan native who was counting on support from his home state, offered prepared remarks after his victory Tuesday in both the Michigan and Arizona primaries.
"Tonight is all the more special because we're celebrating in the state where I was born, surrounded by Michiganders we consider family," he said at a gathering in Novi.
"I have a plan that will restore America's promise through more jobs, less debt, and smaller government," Romney said. "President Obama is making the federal government bigger, burdensome, and bloated. I will make it simpler, smaller, and smarter."
A number of voters who went to the polls in Washtenaw County on Tuesday drew similarities between Romney and Michigan Gov. Rick Snyder and said that's why they're supporting him.
Ryan J. Stanton covers government and politics for AnnArbor.com. Reach him at ryanstanton@annarbor.com or 734-623-2529. You also can follow him on Twitter or subscribe to AnnArbor.com's email newsletters.