Posted on
Mon, Nov 9, 2009 : 11:21 a.m.
In Washtenaw County, 43% of roads are in poor condition
By Amalie Nash
Washtenaw County's roads are in poor condition, as anyone who drives or inspects them can attest.
And a new report issued today shows just how bad.
Washtenaw County was fourth in the state for miles of poor roads at 977 miles with a poor rating. Among Michigan counties, it was 14th in overall percentage of poor roads at 43% of its total 5,773 miles of federal aid roads.
Ann Arbor ranked third out of nearly 1,800 municipalities in the state with 189 miles in poor condition. Overall, 55% of Ann Arbor's 342 miles of federal-aid qualified roads were deemed poor, the report shows.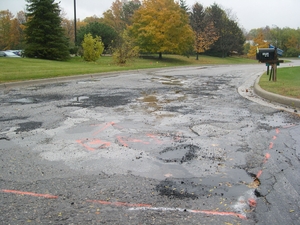 Eric Bombery, associate transportation planner for the Washtenaw Area Transportation Study, said he isn't surprised at the findings. And while he said it's no secret the county's roads are generally in bad condition, he cautioned against focusing on the ranking of 4th worst in the state based on total poor miles - simply because Washtenaw County has more miles of roads than most other counties.
"It's what we expected," he said of the rankings. "We have poor roads, and they continue to get worse."
Bombery said the state process that led to today's report is used to identify roads in good and fair condition so municipalities can focus on fixing those before they become poor. Maintaining a fair road is much less costly than rebuilding a poor road, he said.
But finding the money to repair any roads in Washtenaw County has become a challenge.
A report discussed in September showed a list of nearly 800 deficiencies representing an estimated $1.6 billion worth of unfunded transportation needs. Officials said the region's transportation system is large and complex with many needs - $2.8 billion per year - but right now, there's only $1.4 billion per year in identified funding.
The Washtenaw County Road Commission, meanwhile, has made $1.4 million in cuts. Some of the cuts going into effect include reductions in street sweeping and snow removal services on nights and weekends, more limited sign maintenance and less pavement marking on local roads.
That lack of funding for road improvements has led some individuals and groups to take matters into their own hands. Over the past year, the Washtenaw County Road Commission has seen its first two privately funded road repair projects.
According to the report released today, the only counties with more miles of poor roads are Wayne County (1,841 road miles), Oakland County (1,292 road miles) and Genesee County (1,216 miles of poor roads).
In Washtenaw County, municipalities with the most miles of poor roads:
Ann Arbor: 189 (55% of overall roads).
Ypsilanti Township: 75 (31% of overall roads).
Pittsfield Township: 73 (42% of overall roads).
Lima Township: 50 (56% of overall roads).
Ypsilanti: 45 (52% of overall roads).
"Our legislative leaders need to stop 'watching' the funding problem evolve into a crisis and take appropriate action to correct it," Mike Nystrom, vice president of government and public relations for the Michigan Infrastructure and Transportation Association and co-chair of the Michigan Transportation Team, said in a statement. "This isn't a case of road agencies not doing their jobs. Michigan's local road systems are collapsing because funding continues to plummet."
The report rated each road on a scale of 1-10, with 1 being the worst. It analyzed the municipalities with the most roads rating a 4 or lower.
The Washtenaw Area Transportation Study provided AnnArbor.com with a breakdown today of a study of federal aid eligible roads in Ann Arbor (not the entire system): (The PASER ratings are 1-10, with 10 being the best.)Â 
1.485 miles
6.112 miles
8.473 miles
11.762 miles
10.766 miles
13.808 miles
27.890 miles
21.200 miles
9.910 miles
0.000 miles
Total: 111.405 miles.
Ann Arbor officials cautioned against the Paser ratings, which they say are a flawed measurement of road conditions. Last year, when the city was ranked 2nd worst, city staff looked at those ratings and found 32 miles in the report are state trunk lines and not under the city's jurisdiction, and the rating system is subjective.
"The resulting numbers are highly variable, and there is significant inconsistency with this method as evidenced by the PASER ratings themselves," the city's report said. "For example, while the 2007 ratings rank the City '2nd worst,' the recently published 2008 PASER ratings would rank us among the 'best' municipalities in the state with only 16% of the roads considered in poor condition."
Counties with the most miles of roads rated in poor condition:Â 


Wayne - 1,841 miles (26% of total roads)
Oakland - 1,292 miles (25% of total roads)
Genesee - 1,216 miles (45% of total roads)
Washtenaw - 977 miles (43% of total roads)
Calhoun - 932 miles (51% of total roads)
Kent - 805 miles (23% of total roads)
Macomb - 753 miles (26% of total roads)
St. Clair - 586 miles (36% of total roads)
Menominee - 550 miles (47% of total roads)
Oceana - 534 miles (66% of total roads)
Municipalities with the most miles of roads rated in poor condition:Â 
Note: All the rankings and percentages are based on number of "poor" federal aid miles compared to the total number of federal aid miles. The WATS data includes total federal aid miles, while today's report refers to lane miles, which are different.