Washtenaw County Red Cross volunteers depart for Tropical Storm Isaac relief
Posted on Tue, Aug 28, 2012 : 5:57 a.m.
Teams of American Red Cross volunteers from southeast Michigan are readying for disaster relief efforts as Tropical Storm Isaac moves deeper into the Gulf of Mexico.
About 17 volunteers from Washtenaw County left Friday with a team of Red Cross workers for Florida, and an emergency response vehicle from the Washtenaw-Lenawee County Chapter will depart about noon Tuesday for the Gulf Coast, according to the Red Cross' southeast Michigan regional office.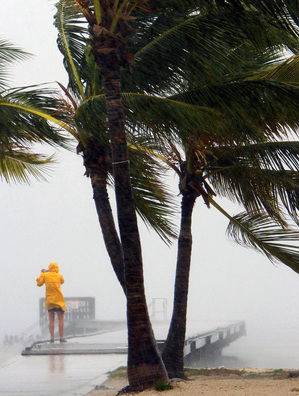 Walter Michot | AP Photo/The Miami Herald
Disaster workers are preparing to assist people in Florida, Louisiana, Mississippi and Alabama communities, as the Red Cross deployed about 1,500 workers Monday to set up evacuation shelters.
Sunday night, more than 560 people displaced by Tropical Storm Isaac spent the night in Red Cross shelters.
Monday evening, the National Hurricane Center projected Isaac would be a Category 2 storm with 100 mph winds when it makes landfall in Louisiana or Mississippi on Tuesday night.
Residents of low-lying coastal areas from Florida to southeastern Louisiana were ordered to evacuate ahead of storm surges and heavy rain.
Tropical Storm Isaac is following the same path as Hurricane Katrina did seven years ago -- nearly to the exact day.
To donate to the Red Cross for relief efforts, go online, call 1-800-RED CROSS (1-800-733-2767) or text REDCROSS to 90999 to make a $10 donation.