Posted on
Fri, Jul 5, 2013 : 5:58 a.m.
Washtenaw County Road Commission to pave some of North Territorial Road's potholes
By Amy Biolchini
Three pothole-filled portions of North Territorial Road will be repaved this year after Salem Township officials struck a deal with the Washtenaw County Road Commission.
The Road Commission's Board of Trustees approved a contract with the township in a 3-0 vote Tuesday that secures a payment schedule for the project.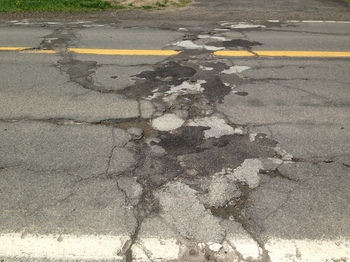 Amy Biolchini | AnnArbor.com
"It's horrendous, the way the road is," said Salem Township Supervisor
Gary Whittaker
, explaining that North Territorial Road's condition is the subject of many complaints from residents.
The Road Commission agreed to front the money for the approximate $1 million project on about three miles of North Territorial and portions of Gottfredson and Seven Mile roads.
The township's board agreed to pay the Road Commission back for the project with $350,000 this year, $350,000 next year and up to $350,000 in the final year.
Paying for the construction out of its reserves is only a measure the Road Commission was able to do because it had a dedicated source of revenue to cover the cost, said Roy Townsend, managing director.
"Our board agreed that we'd like to front the money as long as they pay us back," Townsend said.
However, should the state government expand funding for local roads this year, the Road Commission has agreed that it will give the township back whatever money they've contributed to the project cost.
The township budgets $300,000 per year for its roads, Whittaker said.
"To me, it's not really affecting our budget too much," Whittaker said. "It's taking care of a major problem we have right now."
Whittaker said the township is able to afford the payments to the Road Commission because of the income it gets from tipping fees and the sale of methane gas at the Veolia Environmental Services landfill.
The township does not levy its own property tax and doesn't offer many public services, Whittaker said.
The township has agreed to pay for the repaving of three portions of North Territorial Road, as well as a 0.6 mile portion of Gottfredson Road from M-14 to North Territorial.
Gottfredson Road from M-14 south to Plymouth Road also is slated to be resurfaced this summer. A contractor has already been selected for that project.
About one mile of Seven Mile Road between Chubb and Currie roads also will be repaved, but the county will pay for all of it.
The entire resurfacing project will be put out to bid soon and Townsend said he expects construction to begin at the end of the summer or in early fall.
Outside of Salem Township, there are about two miles of North Territorial Road in Northfield Township and two miles of the road in Webster Township that are still in bad shape that don't have funding allocated to them for construction, Townsend said.
A number of residents who live along North Territorial Road spoke before the Washtenaw County Board of Commissioners in May to ask them to find a solution for the continued deterioration of the pavement.

View Salem Township road improvements in a larger map
Amy Biolchini covers Washtenaw County, health and environmental issues for AnnArbor.com. Reach her at (734) 623-2552, amybiolchini@annarbor.com or on Twitter.