Posted on
Thu, Feb 4, 2010 : 6:05 a.m.
Washtenaw County school districts move forward on consolidating busing
By David Jesse
Melanie Maxwell | AnnArbor.com
Washtenaw County's 10 traditional school districts are working on a plan to combine busing countywide by next fall.
The Washtenaw Intermediate School District is coordinating the effort and has hired two consulting firms to begin work. The goal is to generate savings for the districts ranging from 18 percent to 25 percent in their transportation budgets.
The news comes as all county districts are struggling with budget deficits. It also comes as the county's largest school district, Ann Arbor, is considering privatizing its busing.
In a question-and-answer sheet provided by the WISD to AnnArbor.com, school officials said the "model is being developed as a potential alternative to privatization of school transportation services."
But WISD officials also said the current planning doesn't commit any school districts to the final project.
That planning includes seeking savings through: the standardization of buses, fuel systems, processes and supplies; centralized facilities, administration and overhead; optimization of routing and staging; and "budgetary control of compensation and benefits," a WISD news release said.
Teams from each of the county's 10 districts will be involved in the work, which is being coordinated by consultants from Xavier Leadership Center of Xavier University in Ohio and Transportation Strategies of Indiana.
The goal is to have it ready to be presented to local school boards by the end of this school year and to begin countywide busing next fall.
If it works out, students from different districts could be riding the same bus.
Ypsilanti Township resident Gladys Washington said it's not uncommon for her to see an Ypsilanti school bus drive up her street minutes after she's seen a Willow Run school bus travel the same route.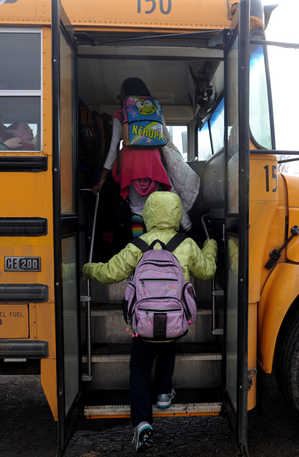 Melanie Maxwell | AnnArbor.com
"It seems like a waste of money," she said. "Why not just use one bus? It's just districts not getting along and sharing their buses."
Ypsilanti school district CFO David Houle said the possible sharing of routes between districts is one of the exciting parts of the plan.
Ypsilanti is one of several districts seeking ways to cut transportation costs to address a budget crisis. In a deficit elimination plan filed with the state, the district said it hopes to get more than $730,000 in savings from the areas of transportation, custodial and food services during the next several years, Houle said.
"It makes a lot of sense to explore this," he said.
The Ann Arbor and Lincoln school districts also have publicly named transportation as an area targeted for savings.
Countywide busing is one of three efforts currently under way to explore transportation savings in the Ann Arbor school district, Superintendent Todd Roberts said.
The first is looking at internal changes, such as cutting the shuttle buses that run back and forth between Community High School and the district's other high schools during the day. That could yield $55,000 to $58,000 in savings, depending on gas prices, district officials said.
The other is looking at privatizing busing. The district has asked private companies to submit bids on taking over all busing operations.
"All three are designed to see how we can be more efficient and save money," Roberts said, adding they hope to have the bids for privatization this month and numbers from the consultants' work on a countywide plan by the end of March. "We'll make the decision based on what the best option is to continue to provide quality transportation for our students."
David Jesse covers K-12 education for AnnArbor.com. He can be reached at davidjesse@annarbor.com or at 734-623-2534.