Posted on
Thu, Jul 29, 2010 : 6:04 a.m.
Washtenaw County school districts revamp high school options to improve student achievement
By David Jesse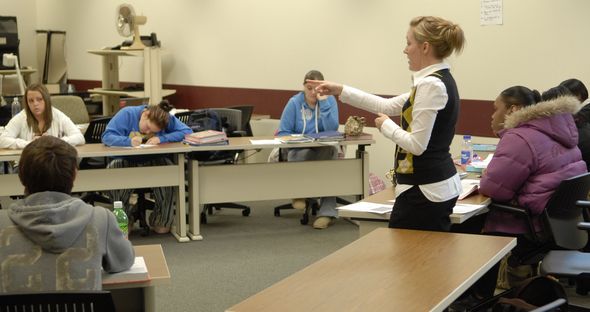 Photo courtesy of EMU
In eighth grade, Maggie Delbert wanted nothing more than to be a year older so she could attend Huron High School.
"We went to all the football games and basketball games and wanted to be there," she said. "I had wanted to go to Huron since I was in elementary school. I knew I'd be almost grown-up then. All my friends and I wanted was to be there."
Now 36 and living in Ypsilanti, Delbert is watching her eighth-grade son to see whether he has similar feelings.
"He wants to be in high school, but he doesn't have one particularly that stands out for him," she said. "He goes to a charter school right now that doesn't have high school, so he'll have to move somewhere new for high school, but we don't know where he'll go."
So for the next year, Delbert and her son, Michael, will conduct what in previous years was reserved for high school seniors looking for a college - a tour of sorts.
They'll have plenty of options to choose from, thanks to a host of new start high schools emerging from high school reforms across the county, especially on the east side.
Much of the change is being driven by under-performing districts trying to turn around their struggling high schools and improve student achievement. Many local educators believe the best way to do that is to offer smaller schools, even inside a traditionally large high school, and work with students to make sure what they're learning is relevant in the real world.
Districts have launched schools focusing on engineering, computers and even a challenging international curriculum. Their goal is to have a school somewhere in the county that will fit every student's needs, even if it's not in a traditional comprehensive high school.
Another factor behind the change is a group of community leaders hoping for economic development in eastern Washtenaw County.
"We wanted to open it up so students could choose where they wanted to go, but still be a part of the public school system," said Bill Miller, superintendent of the Washtenaw Intermediate School District. "It's about partnerships and how we can work together to give students these options that will improve them."
But not everyone is convinced the wave of high school reform is beneficial.
University of Michigan professor Jeffrey Mirel, who has written books on the history of high school reform, said he thinks the segregation of students in various small schools could put them into various tracks and not give them the best opportunities.
Delbert worries about that too. She wants her son to be exposed to a variety of challenging classes that will push him and get him ready for college. She's just not sure where that will be.
"There so much out there now," she said. "A lot more than when I was a kid, that's for sure."
The choices
While much of the high school experience for Washtenaw County students remains dominated by large comprehensive high schools, the pace of change has picked up in recent years.
The options now include the Washtenaw Technical Middle College - a charter school where students graduate with both a high school diploma and a college associate's degree - and the magnet programs operating as schools inside a school at Ann Arbor's Skyline High School. Also changing this year - Ann Arbor's Pioneer and Huron high schools start the downsizing process and switch to smaller learning communities.
And that pace of change continues to accelerate. From expansions of already existing programs to the revamping of high schools to the creation of new programs, the high school landscape is changing, Miller said.
Some of the noteworthy changes include:
The expansion of the Early College Alliance on the campus of Eastern Michigan University. Students graduate with a diploma and up to 60 college credits. It's run by the WISD, and students from most of the county's school districts are able to attend.
The anticipated opening of an International Baccalaureate high school in the former East Middle School in Ypsilanti. A partnership between districts, the IB program is an academically rigorous program that hopes to open in the fall of 2011.
The restructuring of Willow Run High School, including the addition of a Science Technology Engineering and Mathematics Academy inside the school. It's part of Willow Run's plans to turn around the school, rated by the state as among the lowest 5 percent of high schools. The district is adding the STEMM academy in part because of the success of its robotics team, which has deep ties to the auto industry, Miller said.
The development of a cyber school for students who haven't been successful or can't be in the traditional school system for a variety of reasons. Students would be given computers and do the bulk of their work online, with requirements to access a technology center in person at Ann Arbor's Stone High School twice a week, along with working with a mentor to develop an individual course of study.
The opening of Ypsilanti's New Tech High School in the former Ardis building. A small high school of 400 students, New Tech is project-based and focuses on using technology.
The changes likely won't end there.
In Ypsilanti, discussions have begun on revamping Ypsilanti High School to have a performing arts/communications focus. Eastern Michigan University officials said they're involved in those talks and how to partner with the high school.
The idea first emerged when Ypsilanti was on the initial list of the lowest performing 5 percent of high schools statewide, but the district ultimately wasn't on the final list and therefore didn't qualify for grant funding.
"Certainly we are still exploring that as a possibility," Ypsilanti Superintendent Dedrick Martin said. "However, we have some financial challenges. If we can do it, we would still like to do it."
Why the changes?
Washtenaw County education officials say the goal of the changes is better student achievement, especially among struggling schools and districts.
"I think it's almost immoral for educators to look at some the things we have going on and not make changes," Martin said.
On the economic development front, district and local leaders say they believe a well-educated workforce is key to attracting good jobs to an area, as well as high-quality schools for families locating there for employment.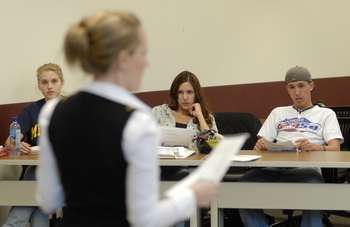 Photo courtesy of EMU
"We're really looking at providing multiple options under the banner of the public schools," said David Dugger, the director of the Early College Alliance at EMU and director of educational options for the WISD. "I do think the 21st century student is different in what they are looking for. The traditional high school model has it strengths, but they are not for everybody. This is about working within the system. It is not about competition (between districts for students), it's about collaboration.
"It's about having students come into the system, and then have choices on where to go."
Martin agrees.
"In this day and age of school choice, it's good for us and good for the students to work together collaboratively," he said. "One school district is not able to afford all of the options, but combining together, we can make sure our students have those options."
Dugger cites both the ECA and the upcoming IB high school as examples of that collaboration. Students will be members of their home district and the staff of the schools come from the districts partnering to launch the schools.
But it's not necesarily the first step toward complete consolidation among districts, Miller noted.
A history of high school reform
High school reform has drawn national attention in recent years. In Michigan, the reform has resulted in tougher graduation standards and movement toward specialized high schools. Multiple New Tech schools are scheduled to open in the next couple years across the state, Miller said.
Reforming high schools isn't a new concept.
In 1893, the Committee of 10 sponsored by the National Education Association issued a report on standardizing high school curriculum. Group members included James Angell, the president of the University of Michigan, and Charles Elliott, the president of Harvard. At that point, only about 5 percent of those ages 14 to 17 were in high school.
That report represented a view of equality of education, Mirel said, where "everybody got the same curriculum," which was largely liberal arts based.
In 1918, nearly one-third of those ages 14 to 17 attended high school. Critics of the existing system thought it was elitist, and in 1918, a group called the Committee on Reorganization of Secondary Education issued a report.
Their goal was to make high school more relevant to students. That's where classes like shop were introduced, Mirel said.
"Their view was everybody gets the same degree, but the way to get there is different," he said.
In the subsequent decades, educators generally set up a track system - with some on the college track and others on the vocational track. A third general track was later introduced.
By the late 1940s, educators were still working on curriculum that was "relevant," so courses such as shop math or science for household appliances came to be.
Then came Sputnik and panic that the United States was far behind its enemies, codified in the 1983 Nation At Risk report.
"The problem is when we start looking internationally, we are sill doing lousy," Mirel said. "We're getting kids to take classes with academic titles, but not academic content."
The emphasis today
Lately, the emphasis has been on relationships, relevance and rigor.
Mirel sees the recent introduction of more specialized schools as a return to past reforms.
"Essentially what we are seeing is a tracking system and a considerable loss of faith in the public schools by families, who are then turning to these other choices," he said. "Unfortunately, in many cases, the options are not much better. People like them better because they're better socially - a small school means more time with a teacher - but academically they're not producing better scores."
Martin doesn't think Ypsilanti High School will end up with lower performing students as higher performing students shift instead to new optional high schools.
"I don't buy into the notion of having only bad kids left. We have plenty of students who have chosen to go to Ypsilanti High School and have great achievement," he said "I know we have a lot of great students who will continue to go to the traditional high school. I don't think the traditional high school will fade away."
Miller sees more smaller specialized high schools being created locally and concedes it could lead to changes at the remaining traditional comprehensive high schools.
"There will probably be less at the (comprehensive) high schools in terms of a menu of choices," he said. "(However) these (new) programs aren't for everybody. You're still going to see traditional high schools."
Local educators stress the current system - especially in the eastern end of the county - isn't working and needs to be changed.
"The success rate is low," Miller said. "The dropout rate is high. Both need to be attacked. There is a lot of attention focused on low performing schools right now.
"We've got an opportunity to put high quality programs in places where we have the greatest need."
David Jesse covers K-12 education for AnnArbor.com. He can be reached at davidjesse@annarbor.com or at 734-623-2534.