Posted on
Mon, Dec 17, 2012 : 1:35 p.m.
After Connecticut school shooting, Ann Arbor-area districts assess security, reassure parents
By Danielle Arndt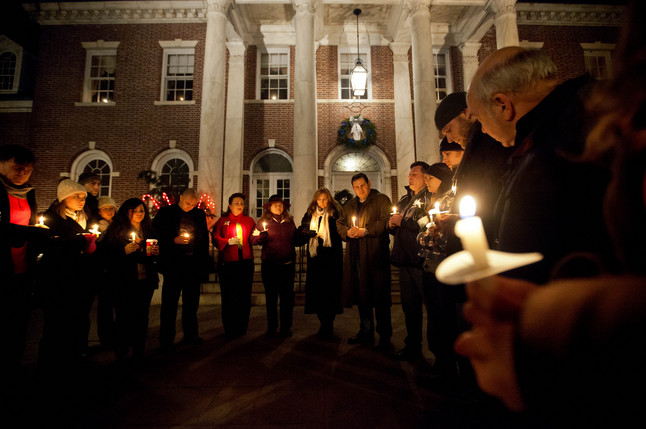 AP Photo/David Goldman
Ann Arbor-area schools Monday tried to be extra sensitive to students' needs and made plans to review their security procedures in the wake of the deadly
Connecticut school shooting
Friday.
Email blasts, robocalls, administrative meetings and discussions with police officers all have been employed to assure Washtenaw County students are safe and parents know it.
Schools took varied approaches in discussing with students the attack at Sandy Hook Elementary School in Newtown, Conn. Friday that left 27 dead, including 20 children.
Administrators at Ann Arbor Public Schools first made contact with parents and staff Friday afternoon.
"We continued to speak with principals throughout the weekend and have a meeting this morning (Monday) as administration to discuss what else we should be doing," said district spokeswoman Liz Margolis.
Margolis said AAPS plans to continue to assess its safety plans.
The email messages that several Washtenaw County districts sent out Friday were similar.
"Each school has a safety plan in place," the emails to Ann Arbor and Saline's school communities read. "This plan includes a heightened awareness from the main office staff and by our school staff. School doors are, in general, locked during the school day, except for the front doors.
"Teachers and staff members have classroom safety plans with instructions in each classroom that are reviewed frequently. There are staff members trained in crisis response and CPR in each building. Many staff members also have participated in staged training exercises in response to potential school emergencies."
But the schools' approaches to addressing the incident in the classroom have varied slightly.
AAPS sent out a discussion sheet to the community during the weekend with guidelines for parents and teachers on how to address the Sandy Hook Elementary School shooting with children.
The advice included describing the basic facts of the incident without making editorial comments or assumptions.
Other general considerations the district listed for leading post-crisis talks were to listen to children, explore their fears, validate appropriate feelings and emphasize the teacher's availability to discuss it further with children, if necessary.
The information sheet originally was compiled a few years ago by the Prevention and Community Response Unit of the Washtenaw Public Health Department. That unit unfortunately no longer exists, said public health spokeswoman Susan Cerniglia.
The sheet also contains common reactions to tragedy among children of various age groups and appropriate responses from adults.
Willow Run Community Schools also gave this information to its staff during the weekend and is sending it home with every elementary child today, said Superintendent Laura Lisiscki.
Saline Area Schools has taken a slightly more hands-off approach.
Steve Laatsch, district spokesman and assistant superintendent of instructional services, said officials have solicited feedback from their community on how to address the issue of school safety, as well as the news of the shooting.
"We've really tried to respond to parents' wishes and concerns," Laatsch said. "Some of our parents really want to address this at home with their children in their own way."
He said if students do start asking questions about the tragedy in class or seem distressed, teachers are trained to offer them the extra support of building social workers or counselors.
"Teachers also can tell children this is something we can talk about in private," Laatsch said. "We don't want to squash conversations, but we want be sensitive to the fact that some parents want to handle these sensitive topics. So we can also encourage the children to talk to their moms and dads."
Saline administrators plan to be extra vigilant about being visible in the schools this week before the holiday break, Laatsch said.
"We're really going to try to be out there at the beginning of school and at the end of school and in the hallways during the transition periods," he said.
After school resumes in January, district administrators also plan to meet to discuss what some of the additional next steps are that the district can take to be even more secure.
"When something like (a school shooting) happens, there's an uneasiness," Laatsch said. "We're concerned by the idea that we may never be able to put up enough safeguards to guarantee everything. And that's unsettling to all of us."
Dedrick Martin
At
Ypsilanti Public Schools
, officials sent out a robocall to parents Friday afternoon and posted a letter on the district's
website
over the weekend, said Superintendent
Dedrick Martin
.
The letter provided a list of links to resources to help families address the tragedy with their children. It also encouraged parents to monitor their children's intake of media coverage of the event and to help them process their thoughts and feelings.
Martin said the district's teachers, social workers and counselors are trained to address the wide range of emotions that students could experience in the wake of something so senseless and horrific.
"Some students will want to talk about it more than others. Our teachers are certainly equipped to handle these discussions. And other children will want to have these conversations at home," Martin said. "Our teachers understand the benefit of not artificially forcing a conversation (on the shooting) but to be aware of what their students need."
Martin said if a conversation in a classroom becomes too heavy, the teacher can stop it and encourage students who need more dialogue and information to seek out school psychologists.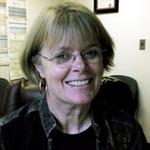 Dexter Community Schools
took an approach similar to the one in Saline in trying to make administrators more visible in the schools Monday and to observe students' demeanors and distress levels.
"We have teams of people in every building who are trained to determine whether concerns need to be addressed on an individual level or in a broader systemic way," said Superintendent Mary Marshall. "In general, what we are finding is that kids are fine to come to school today."
She said administrators will meet Tuesday morning to review the district's security plans.
"When anything like this occurs we use it as an opportunity for us to say what can we improve in the systems we already have in place and is there a new layer of security or process that we can add," she said.
Danielle Arndt covers K-12 education for AnnArbor.com. Follow her on Twitter @DanielleArndt or email her at daniellearndt@annarbor.com.