Posted on
Fri, Oct 26, 2012 : 11:46 a.m.
Washtenaw commissioners seek more than 80 volunteers to fill board vacancies
By Amy Biolchini
More than 80 positions on Washtenaw County Board of Commissioner-appointed boards are available and in need of volunteers.
Citizen volunteers make up a number of advisory boards for a wide range of county services, including emergency management, brownfield developments, building codes, concealed weapons licensing, historic districts, watershed council and public works.
Two of the more active commissions are taking applications for seats on their boards, including the Brownfield Redevelopment Authority, which is looking to fill four positions. The Washtenaw County Road Commission has a position open on its three-person board. The appointee would serve a six-year term that would expire at the end of 2018.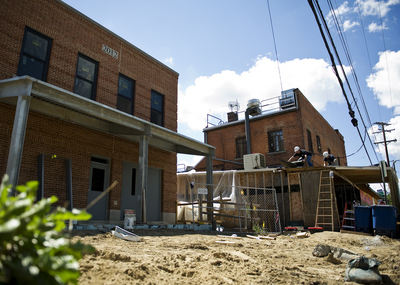 Daniel Brenner I AnnArbor.com
County officials have had difficulty filling some positions in the past, as many people don't know the opportunity is there, said Commissioner
Conan Smith
.
County staff has tried various approaches to engaging the public before - including posting the openings on Craigslist. However, as serving on a county-appointed board is a volunteer position, the lack of pay deterred many of the responses from the Craigslist ads, Smith said.
Serving on a county-appointed board is a way for the public to be involved in the future of the county without having to be an elected official, Smith said.
Many times, people with political interests first serve on county-appointed boards before making the jump to elected positions within county government, Smith said.
Applications to serve on county-appointed boards can be submitted electronically, and require people to fill out an online form and submit a resume. Applications can be mailed to Peter Simms, County Clerk's office, P.O. Box 8645, Ann Arbor, Michigan 48107.
Letters and resumes may also be submitted by email to simmsp@ewashtenaw.org or by fax to (734) 222-6528.
The deadline for the application process ends Oct. 31. The Board of Commissioners will deliberate on the applications, and appoint individuals to open board seats Dec. 5.
New appointees will begin their terms Jan. 1.
Smith said it doesn't hurt for people who are applying for a position on county boards to introduce themselves to commissioners, as name recognition and personal experience helps their chances in the application process.
The most active county-appointed board is the Brownfield Redevelopment Authority, which often deals with multi million-dollar projects that determines when tax increment finance funds should be used to promote the redevelopment and environmental cleanup of rust-belt properties in the county, Smith said. Proposed development projects that want to make use of brownfield funding must first pass the authority before getting final approval from the Board of Commissioners.
Jeremy McCallion and Douglas McClure both currently serve on the brownfield authority.
McClure said he was serving on the public policy committee for the Chamber of Commerce before he heard of an opening on the brownfield commission.
"I jumped at the chance," McClure said. "It's a great way to get plugged in to government."
McCallion said the opportunity for community members to be involved in regional development decisions was extremely valuable.
"It's regionalism at its best," McCallion said.
"You get an inside view to what is happening," McClure said. "You get an opportunity to really make a difference."
The Brownfield Authority has been involved with some of the biggest development announcements in the Ann Arbor area in recent years, including the Zingerman's expansion and the construction of the Landmark high-rise apartments at 601 Forest.
While the members of the Brownfield Redevelopment Authority do have a certain degree of power over the nature of the developments and allocation of tax breaks for multi-million dollar projects in the area, Smith said that's not the biggest draw for the people who want to be on the board.
"This is a volunteering kind of community," McClure said.
Individuals who seek to serve on the authority have a keen interest in guiding the policy decisions made in Washtenaw County, and take a collaborative approach to making informed decisions and presenting the Board of Commissioners with complete, thorough recommendations, Smith said.
Smith said he can't recall a time when the full board sent a proposal back to the brownfield authority because of incompleteness or unanswered questions.
"We have enormous trust in our appointees," Smith said.
Several of the commissions have large openings available - including the Emergency Medical Services Commission, which has 17 now-open positions, and the Local Emergency Planning Committee, which has 13 open positions.
The county's boards and commissions are open and informative, and allow new appointees time to ask questions and learn the ropes, Smith said.
The citizen perspective of people that serve on various boards in the county helps to counter the "inside the beltway effect" that is easy for county employees to develop, said Mary Jo Callan, director of the county's Office of Community and Economic Development.
Members do not have to have a background in the area that the committee oversees, but there are specific seats on each board set aside for representatives from specific sectors.
Using the Brownfield Authority as an example, the four open seats are set aside for representatives from the general public, a nonprofit environmental company, a county municipality and a development company.
The county-appointed boards meet on schedules that vary according to how much business needs to be conducted, and each typically sets the date and time of their respective meetings.
Amy Biolchini covers Washtenaw County, health and environmental issues for AnnArbor.com. Reach her at (734) 623-2552, amybiolchini@annarbor.com or on Twitter.