Posted on
Thu, Mar 14, 2013 : 5:58 a.m.
Washtenaw County sees modest population gains as Southeast Michigan recovers
By Amy Biolchini
Washtenaw County's population has been making modest gains throughout the past two years while the exodus of residents moving out of Southeast Michigan appears to be lessening, according to the most recent data released Thursday by the U.S. Census Bureau.
"(Southeast Michigan is) recovering faster than the national average in terms of job growth," said Xuan Liu, manager of data analysis for the Southeast Michigan Council of Governments. "The out migration has been slowed down."
The county has seen a gain of about 5,500 people in the past two years: In July 2010, 345,350 people lived in Washtenaw County. The county's population grew to 348,637 people by the following July, and to 350,946 by July 2012.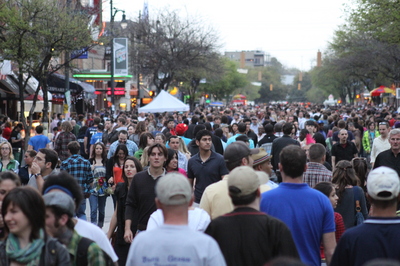 Jeremy Peters | AnnArbor.com Contributor
The Census Bureau reports the net rate of people moving in and out of Washtenaw County was cut in half within the past year from that of the year before -- which could partially contribute to the state of the local housing market:
Fewer sellers are putting their homes up for sale.
In Michigan as a whole, 9,877,670 lived in the state as of July 2010. One year later, that figure had dropped to 9,876,801. As of July 2012, 9,883,360 lived in Michigan. Rates of migration out of the state appear to be lessening, according to the census data.
Those figures include college students, as well as an estimate of undocumented immigrants, according to the Census Bureau.
From July 2010 to July 2012, there were 7,389 births in Washtenaw County and 4,073 deaths.
In that same time frame, the net international migration in to Washtenaw County from countries outside the U.S. was 3,376 people.
However, during that time the flux of people in and out of Washtenaw County to and from other counties within the U.S. resulted in a net loss of 1,024 people.
That trend is reflective throughout the more densely populated areas of Michigan: People moving in to the region from points outside the U.S. account for positive net increases in population, while movement of people out of the regions to other American cities accounts for a decrease.
"That's pretty consistent with what we've been seeing," Liu said.
Even during the robust 1990s Southeast Michigan was seeing more people move out of the region than move into it, Liu said. At that time, immigration continued to add people to the region's population, Liu said.
During the recession that hit in 2008, Southeast Michigan lost more people than it had in years past -- but the rate of international migration changed very little, Liu said.
The international immigrants that come to Southeast Michigan have a significantly higher advanced education level than that of the local population, Liu said, and are likely moving for job opportunities or additional education.
In 2012, 37,545 of the students enrolled at the University of Michigan were U.S. residents, and additional 5,881 students were non-U.S. residents.
Employment sectors like computer programmers and jobs in the technology field - which are hot areas for employment in the county and Southeast Michigan - have the ability to attract international talent, said Amy Cell, senior vice president of the Michigan Economic Development Corporation.
"Where there is that demand and local skill shortage, it's a natural fit," Cell said.
Other hot areas for employment in Southeast Michigan include engineering, skilled trade professions like welding, as well as in the full gamut of health care services.
"I think it's an exiting time to come into southeast Michigan," Cell said, noting that on the state's employment website -- MiTalent.org -- there are about 64,000 job openings in the state.
Amy Biolchini covers Washtenaw County, health and environmental issues for AnnArbor.com. Reach her at (734) 623-2552, amybiolchini@annarbor.com or on Twitter.