Posted on
Wed, Dec 5, 2012 : 10:10 a.m.
Police, fire departments to host annual shopping events with Washtenaw County children
By Amy Biolchini
Editor's note: This story was updated at 2:30 p.m. with additional law enforcement agencies participating in the events.
The Washtenaw County Sheriff's Office and several police departments from across the county will be hosting annual shopping events this month to help area children in need.
Children that have been referred from area school districts will receive gift cards and a shopping trip with a deputy, police officer or firefighter to select presents for their family members.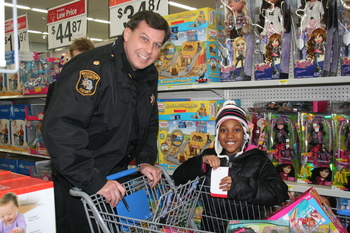 Courtesy of Washtenaw County Sheriff's Office
Pittsfield Township
's police, fire and public safety departments will be hosting their
"Shop with a Hero"
events Thursday at local Meijer stores for area children.
From 6 to 7:30 p.m. Thursday at the Meijer on Carpenter Road in Ypsilanti Township, 44 children will receive $50 gift cards to shop with and will be paired with law enforcement members.
At the same time, 40 children will be shopping with gift cards and a law enforcement member at the Meijer on Ann Arbor-Saline Road. Children will be treated to snacks at the event as well.
The Pittsfield Township Department of Public Safety is partnering with a number of agencies to make the event possible: The Ann Arbor Police, Ann Arbor Fire, Saline Police, Saline Area Fire, Chelsea Area Fire, Milan Police, Ypsilanti Police, Northfield Township Police,Superior Township Fire, Eastern Michigan University Police and University of Michigan Police departments.
The Washtenaw County Sheriff's Office will be hosting two "Shop with a Cop" events, beginning at 4 p.m. Wednesday at the Walmart in Ypsilanti Township for children on the east side of Washtenaw County.
The second event will be at 5 p.m. Dec. 12 at the Meijer on Jackson Road for children on the west side of the county.
In addition to shopping with an officer, children will also be provided with dinner, craft projects and a photo opportunity with Santa. Volunteers will wrap the presents the children select.
"Shop with a Cop" is also supported by Ann Arbor Marriott Ypsilanti at Eagle Crest. The Washtenaw Intermediate School District donated buses and drivers to transport the children for the event.
To make a donation to the program, make checks payable to "WCSO — Shop with a Cop East" or "WCSO - Shop with a Cop West" and mail them to: CSO Gloria Toutant, c/o Washtenaw County Sheriff's Office, 2201 Hogback Rd., Ann Arbor, MI, 48105.
Amy Biolchini covers Washtenaw County, health and environmental issues for AnnArbor.com. Reach her at (734) 623-2552, amybiolchini@annarbor.com or on Twitter.